Some marketing endeavors succeed, while others fail. The ultimate successful marketing campaign results in return-on-investment (ROI). You get back what you put into it if you're smart. If you're really smart, you'll get back more than what you spent in money, sweat, or tears.
The latter scenario is ideal, and a digital marketing company can help you do it.
If you want to boost your business's ROI, investing in digital marketing might be the answer.
1. It'll Handle the Nitty-Gritty Details
Your return-on-investment is easier to measure when somebody else is handling a big chunk of your marketing. In short, it leaves you free to spend your valuable time building your business in other ways. The time you save is absolutely a fantastic gain for your overall ROI.
Organic reach is when people are able to find you online without the help of ads. Read: This is exposure you don't have to pay for.
Likewise, a digital marketing company can optimize your online presence and improve your organic reach, which helps you earn leads and increase sales without paying extra. That's great ROI.
If you want better ROI, time saved, and more, you need a digital marketing company in the USA like MSalesLeads. Check us out to see how we can be your ROI-booster.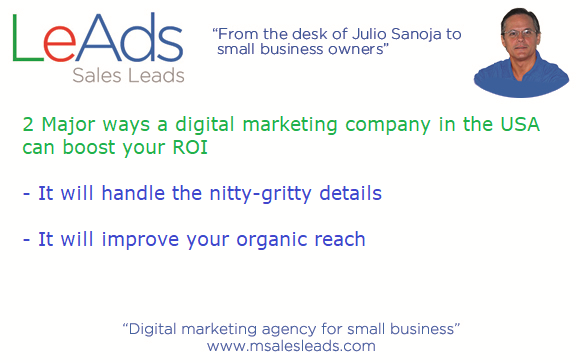 You can read our previous article in the following link:
https://www.msalesleads.com/what-are-local-digital-marketing-services/
About the Author:
This article was written by Express Writers team