Advertising Agency in Utah Uses Google to Help Businesses Grow Locally.
Advertising Agency in Utah Uses Google to Help Businesses Maintain and Grow Their Local Presence.
Advertising agency is a necessity if you wish to build your business in this internet age. SEO is a complicated field of study, one that is constantly evolving to help maintain the integrity of search engine results. Therefore, many business owners lose their battle by attempting to navigate this necessary playing field without knowing the ropes. Meanwhile, they are truly unaware of the cost to their bottom line. However, if they were to hire an advertising agency to help with this daunting task, the costs of the experts would be completely overshadowed by the amazing return on their investment.
There was a time when many businesses did not have websites or did not tend to them daily, when SEO was an easy accomplishment. At the time, all that was needed was adding meta tags of keywords relating to the business into the coding of the website. However, businesses began padding these meta tags by including keywords that may have related to their industry in a broad sense but did not relate to their company in any way, thereby diminishing the integrity of search engine results. After search engines realized this, they not only changed how they analyze websites for SEO, but they changed it regularly: anywhere from once a day to three times a day. Because of this change, it became imperative that advertising agencies work with companies to navigate ever-changing SEO tactics and apply changes as needed. SEO experts help your company:
Navigate advertising on the web
Maintain its web presence
Stay relevant to its customers
Stay in front of your customer base
… and more.
Advertising agencies take the guesswork out of SEO marketing. They research and learn the internet, its algorithms, and the necessary implementations to ensure your website is always at the top of the search – or at least within the top ten. Without an advertising agency as part of your marketing team, your online presence would lose its purpose and diminish your Brand.
Advertising agencies are an invaluable piece of your online branding. By working with advertising agencies, you understand the value that your website brings to your overall brand. It allows your business to flourish while you continue to run your business, leaving the advertising agency to run your online marketing.
ProTrans and Google in Utah
Not every business requires an international following. Those that must maintain a local presence must learn how to utilize the internet in a different manner that will still help them grow in their own backyard. ProTrans  had to navigate the web for this very purpose: to grow and expand locally, not nationally. Founded by Beau Ogburn in 2010, ProTrans is a high-end, affordable SUV transportation service that caters to visitors to Park City and Salt Lake City, Utah. What began as a single car operation has grown to a fleet of over 15 vehicles. Beau credits this amazing growth to a strong internet strategy and presence. "I think we have the best-looking website in the industry, and we're constantly trying to use great web development tools."
One of the most important pieces to ProTrans' success has been AdWords. "We started using AdWords the day ProTrans was founded. It's been invaluable for the success of our business because we can connect with audiences [who are] coming to our geographic location. An audience looking for professional transportation at a great price." Beau found a better alternative to the traditional AdWords in AdWords Express. "We look at AdWords Express as being a more localized campaign, while AdWords targets the rest of the United States, and even customers from across the world."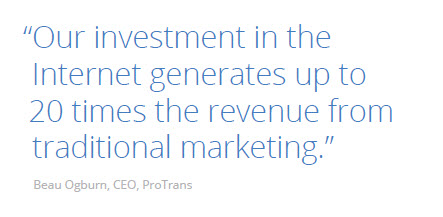 Google products have become the crux of ProTrans' business. "Our entire backend runs exclusively on Google. There's nothing that can compete with what they offer." Some of the tools ProTrans uses to help run the business include:
Google Voice
Google Calendar
Google AdWords
Google Maps… and more.
ProTrans has plans of expansion for the future and knows Google is key to that becoming a reality. "We're trying to grow and expand rapidly. ProTrans is an ambassador for Park City and the state of Utah and we want our customers to come back. The tools that Google provides enable us to have great service, instant information exchange, and seamless integration with our clients and drivers. Which leads to a great experience and hopefully encourages our customers to return to Park City and the beautiful State of Utah."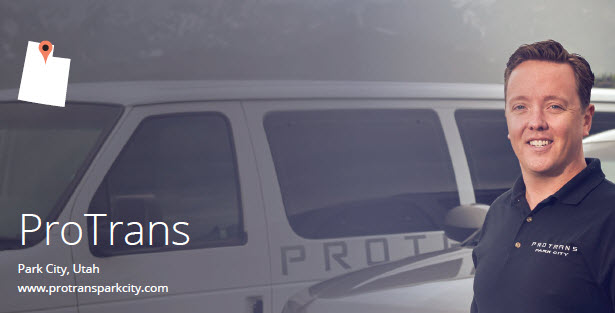 One thing Beau has learned from his venture is the importance of the internet in his branding and advertising. "Our investment in the internet generates up to 20 times the revenue from traditional marketing."
Google By The Numbers In The State Of Utah
Utah is a state full of beauty and adventure. From the gorgeous mountains to the amazing valleys, it is a perfect location for winter and summer vacations. Entrepreneurs looking to start a business in the travel and tourism industry flock to Utah for all it has to offer. However, the business landscape can become overcrowded if help is not attained, and many entrepreneurs can get left in the dust. Google and its tools can help these business stand out from their competition and succeed.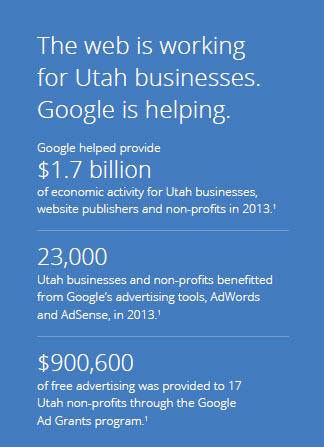 ProTrans is one of many businesses and non-profit organizations in Utah who benefit from Google's suite of tools and products. For example:
In 2013, Google helped Utah businesses, website publishers, and non-profits see $1.7 billion of economic activity.
23,000 Utah businesses and non-profits benefited from Google's tools, such as AdWords and AdSense.
Google Ad Grants Program raised $900,600 worth of free advertising for 17 Utah non-profits.
This article was written by the LeAds copywriting team. LeAds is one of the most experienced Google advertising agencies, specializing in Google AdWords and Google SEO, in the United States. Please visit our website at www.msalesleads.com for more information about making Google Search and AdWords work for your business.
The data in this article was based on the Google USA Report 2013.
You can read our previous article in the following link:
https://www.msalesleads.com/marketing-agency-companies-in-texas-use-google/