AdWords Consultants in New Jersey Optimize your Google PPC Campaign
AdWords consultants in New Jersey can help your business to get new customers
AdWords consultants are here to help your business see a higher ROI from your online marketing efforts and eventually, greater profits. Businesses that use AdWords understand that PPC can be expensive – very expensive! Wasting money will have your business falling behind the competition before you know it.
Many companies begin a PPC campaign only to see their money being wasted. Some companies quit their paid search efforts before a single spike in profits has been seen. These companies rarely, if ever, use AdWords consultants who are a Google partner agency. Many times these companies try to find the cheapest way to do things.
These companies try to cut corners because they do not understand the complexities of the Google advertising system. Each year, Google is continuously changing the AdWords program. With each development, Google's PPC platform continues to become more and more difficult to navigate. The complexity of AdWords has grown over the years.
Due to the nature of the platform, it takes a very high level of expertise to get the best bang for your advertising buck. Unless you know the ins and outs of PPC, your company is best suited working with AdWords consultants to ensure you turn a maximum ROI on your campaign. If your company is willing to invest in AdWords, then you should be willing to invest in an AdWords agency.
A great AdWords consultant will work to make your company's PPC campaign as profitable as possible through:
Cost and budget optimization
Once your AdWords campaign is optimized, the rest is up to you. Combining an optimized sales page or website with the right PPC campaign and management will ensure your business finds the profits you have been searching for. The key is optimizing both ends of your sales funnel (paid search and your sales copy). If you don't follow through with both steps, then your business will be leaving money on the table. 
Down the Chute and Into Profits
Many companies understand this fact. Some companies have seen their business explode solely thanks to the web. One such company is Allen Chimneys in Cedar Grove, New Jersey. Founded by Jillian and Theron Allen in 2009 – Allen Chimney offers chimney installation, inspections, maintenance, repairs, and cleaning. Anything to do with chimneys—we do it," states Jillian.
The company started off slowly, but things began to take a turn for the better after Hurricane Sandy in 2012. The storm and some great word-of-mouth recommendations led to growth through the year. In 2013, the couple revamped their online presence and website. Once they completed the overhaul, the couple decided to focus nearly all of their marketing efforts online.
To begin, Allen Chimney started using AdWords and Google Analytics. "Analytics is great for us," Jillian remarks. "We're seeing where business is coming from, what markets are untapped, and where we need to target." The next step for the company was to integrate social media and more into their processes.
So they started a YouTube channel to show product demonstrations to potential customers. Once Google + was created – the business began accumulating some great reviews online. According to Jillian, "Google+ really saved our lives, especially since we have five-star review status now. It really makes us stand apart from our competitors."
Jillian tends to handle most of the online marketing for Allen Chimneys. She loves how Google makes things easier and, "organizes everything into these little pockets for us." Customer relations through Google offer the company peace of mind while Google Analytics allows the company to track their marketing progress. This is exciting for Jillian, as she notes, "After putting in the work, seeing the increase in our presence online is very rewarding."
That reward has come to fruition in the way of 90 to 95 percent of new business Allen Chimneys receives is from the Internet. Due to this advantage, Jillian and Theron plan to add a number of more offerings in the coming years. Gas fireplace repairs, roofing, masonry, and more are all in the plans for Allen Chimneys.
Not only does the company plan to offer more service, but Jillian also plans to hone her online marketing craft. She has plans to increase her online marketing savvy in the near future. "I know more than a lot of people, but have much more to learn," she notes.
If she can do so, then the future of Allen Chimneys is bright. As the company's sales strategy is solely based on the Internet, Jillian knows, "Using the Internet and AdWords is the only way it's going to happen. Once we have the new services, the Internet is 100 percent of how we're going to obtain customers—absolutely."
The good news for Allen Chimney is that Jillian loves working with Google Analytics and Google AdWords. For her, "The most gratifying part of my job is seeing us online." 
Google By The Numbers In The State Of New Jersey
Allen Chimney has found great success using Google tools and Google AdWords https://www.google.com/adwords/ to build their online presence and drive business. So have many other businesses in New Jersey. Google provided nearly 2.54 billion in economic activity to businesses in New Jersey throughout 2014. Over 52,000 businesses in the state were able to take advantage of Google's advertising tools in 2014 (AdWords and AdSense).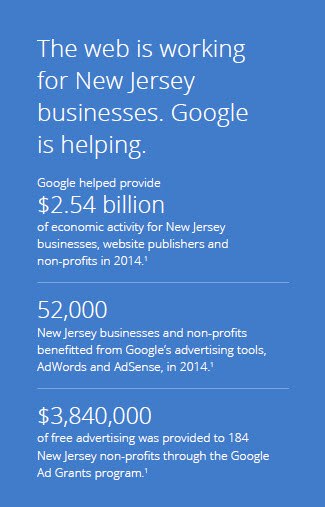 Non-profits in the state of New Jersey also utilized Google. Over $3,840,000 in free advertising was granted through Google Ad Grants to 184 New Jersey non-profits during 2014.
This article was written by the LeAds copywriter team. LeAds is one of the most experienced Google Adwords Consultants Agency, specializing in Google AdWords and Google SEO, in the United States. Please visit our website at www.msalesleads.com for more information about making Google Search and AdWords work for your business.
The data and the images in this article were taken from the Google USA Report 2014.
You can read our previous article in the following link:
https://www.msalesleads.com/adwords-services-and-google-in-new-hampshire/