My name is Julio Sanoja, and I am the owner founder of MSaleLeads, a digital marketing agency for small businesses located at Miami, Florida.
You can visit the agency at www.msalesleads.com and you can visit my LinkedIn profile at  https://www.linkedin.com/in/juliosanojarial/
I would like to know if you are interested in getting new customers for your business through a digital marketing campaign.
We can help you to position your business at the main four digital places: Internet; first page of Google; social networks; and email marketing. Your prospects and customers will always find you, see you, and remember you.
Our working methodology begins with a digital marketing consulting to know your business and your current digital marketing situation. Then we design and execute a digital marketing strategy to position your business in these four main digital places.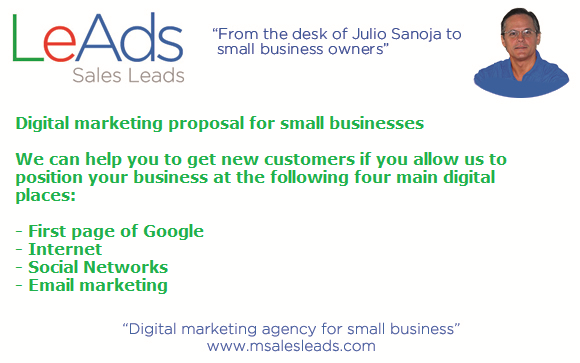 We will take care of everything, including design and development of blog, social media pages, and directories, if it is necessary; setup and launch of all the Google marketing products, guidelines, and tests; design, development and maintenance of the content and ads campaigns.
Please let me know if you are interested in our digital marketing proposal so I can send you the consulting questionnaire to begin the consulting and strategy phase.
My mobile number is 305-918-9793 and my email is juliosanoja@msalesleads.com
Thanks,
You can read our previous article in the following link:
https://www.msalesleads.com/small-businesses-have-four-digital-marketing-assets-to-conquer-four-digital-marketing-places/
About the Author:
This article was written by Julio Sanoja Rial, CEO, founder and digital marketing consultant at MSalesLeads, a digital marketing agency for small businesses. We help small businesses to go and grow their businesses online.