Did you know there are tons of advantages of working with a small business marketing company for your marketing needs?
If you want to work with a company that has a personal touch, that's focused on your goals, and flexible enough to meet your needs, you need to think smaller, not bigger.
1. They'll Be Laser-Focused on Your Marketing
A big marketing company has hundreds of clients and a lot of hands in various pots. They're spread out and constantly busy, so how do you know you'll get the personal attention your business needs to soar?
You don't. On the other hand, when you work with a small business marketing company, you know you're a top priority.
Smaller companies have a smaller amount of customers they can devote time and attention to. This means your marketing strategy will get plenty of laser-focus and the success that goes with that kind of dedication.
2. They Can Change Speeds and Marketing Tactics Quickly
If they need to, a small company can quickly pivot if a strategy isn't working for your brand. They can change tactics and come up with a new plan without all the hoops, company politics, or bureaucracy to jump through.
In short, a small business marketing company can be a perfect fit for a successful outcome. If you're ready to jump on-board, talk to us today at MSalesLeads.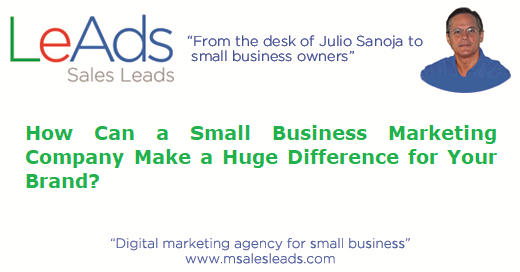 You can read our previous article in the following link:
https://www.msalesleads.com/why-your-business-needs-an-interactive-advertising-agency/
About the Author:
This article was written by the Express Writers team.