Every B2B small business can get qualified leads in a permanent manner after positioning its business in digital media.
The following digital marketing tasks must be executed in order to position a B2B small business in digital media, and get qualified leads in a permanent manner:
Design, develop, and maintain the B2B small business owned digital media: WordPress website, WordPress blog, social network business pages, social network community and group pages, guest blog pages, directory Listing, email marketing platform.
Setup and launch the Google marketing products: Search console, Analytics, My Business, Maps.
Comply with the Google technical requirement for search engine optimization: website mobile friendly test, website page speed test, website loading time test, webmaster guidelines, links guidelines, seo guidelines.
Design and develop a content marketing strategy that must include key phrase analysis for search engine optimization.
Produce and distribute in owned media educational articles about the products, services, and customer needs in a permanent manner.
Design, launch a maintain a digital advertising campaign in those digital media where the B2B small business audience visit, browse and search.
These tasks well designed and executed will position the B2B small business in all digital media, and therefore will give the B2B small business qualified leads in a permanent manner.
These digital marketing positioning takes time and effort, and it can be performed with a reasonable budget for every B2B small business.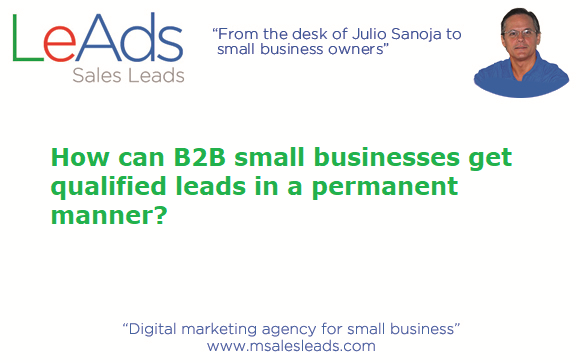 You can read our previous article in the following link:
https://www.msalesleads.com/linkedin-advertising-campaigns-for-b2b-small-businesses/
About the Author:
This article was written by Julio Sanoja Rial, CEO, founder and digital marketing consultant at MSalesLeads, a digital marketing agency for small businesses. We help small businesses to go and grow their businesses online.