David Stone, Ok2go Latam Director, on January 2018, asked our agency to get qualified leads for Ok2go Chile distributor.
Ok2go Chile distributes the Ok2go Israel products and services in Chile.
Ok2go Israel develops and sells software and apps for human resources presence and assistance control.
Our agency designed and launched a LinkedIn Sponsored Content Ads campaign for Ok2go Chile to get qualified leads in LinkedIn.
We segmented the campaign to the following audience:
Geographic targeting: Chile.
Industry type: Manufacturing and Services companies.
Company size: Medium and large companies.
Job Functions: Human resources, Sales, IT, and Finance.
Job Seniority: Senior Executives.
During the campaign first week we got the following 4 qualified leads for Ok2go Chile:
Entel Chile: one of the largest mobile companies in Chile.
SGS Chile: one of the world leading inspection companies.
Eurocorp Chile: one of the largest construction companies in Chile.
VTR Chile: one of the largest telecommunication companies in Chile.
Once again, we demonstrated that LinkedIn Sponsored Content Ads campaigns are a very effective, efficient, and satisfactory lead generation tool for B2B businesses.
The first week campaign investment was USD $ 70. Cost per leas was USD $ 17.50 per qualified lead.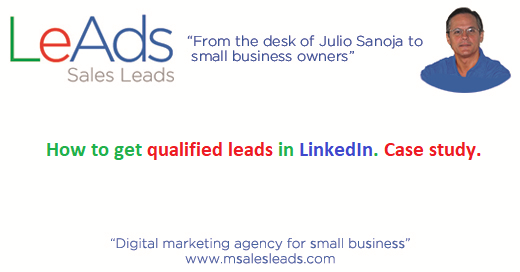 You can read our previous article in the following link:
https://www.msalesleads.com/google-agencies-for-small-businesses/
About the Author:
This article was written by Julio R. Sanoja, owner and founder at MSalesLeads, a digital marketing agency for small and mid-size businesses in Miami, Florida. We help small and mid-size businesses to go and grow their businesses online; position their brands, products and services online; and get qualified leads and new customers online. We have been doing this for the last 16 years. You can write me juliosanoja@msalesleads.com or you can call me 305-918-9793.