Google and Facebook are the two big players in digital advertising, both have more than 85% of the digital advertising business, which is currently 25% of the world global advertising business, and growing; and both use big data in their advertising business. This is easy to understand if we know that Google has a 4.000 million person's database and Facebook has 1.800 million person's database. Google and Facebook know everything about these Google and Facebook users. This information about these digital media users (audience) is offered by Google and Facebook to businesses and corporations worldwide for their digital advertising campaings.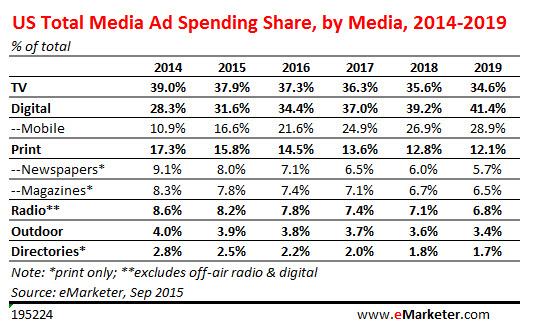 Any business or agency that want to execute a digital advertising campaign must know the Google and Facebook advertising database variables. Knowing very well these big databases variables, you can design a very well targeted campaign, and therefore you will enjoy high ROI and high campaign metrics, such as CTR and Conversions.
Targeting is the key in any digital advertising campaign. To execute a good targeting campaign, you must know the big database variables very well. You have to be creative for the campaign message but you have to think with a math mind for the variables targeting. Hire a creative for the campaign message, but hire a computer engineer for the campaign variables targeting.
The main Google and Facebook advertising products are Google AdWords Search, Google AdWords Display and Facebook Ads. We will not include yet Instagram advertising in this article, even though Instagram belongs to Facebook as well as WhatsApp.
Let´s take for example the Google AdWords Search database. One of the key variables here is the keywords match or keywords concordance. There are several types of keywords concordances: broad match, broad match modifier, phrase match, exact match, negative match. Depending upon the campaign strategy you will have to select one of these concordances for your campaign. Each one of these concordances is used for a different strategy.
Let´s take another example in Google AdWords Display database. The two main variables categories for this database are persons (users) and content. Each of these two main variables categories has subcategories variables. For example, the person's category has the following subcategories variables: geographic location, age, gender, interests, buying intent. The content category has the following subcategories variables: topics, keywords, website addresses. Depending upon the campaign strategy you will target some of these variables in the campaign.
Targeting is the key for any digital advertising campaign, and database variables knowledge is the key for targeting. Be creative for the message but think like a software engineer for targeting the database variables.
A business, corporation, or agency can use these two big databases to deliver the right message to the right person at the right time. It is a matter of strategically design and execute a good targeting campaign. Welcome to the new big data advertising.
In future articles we will go deep in the database variables and we will write about the Facebook database variables.
This article was written by Julio Sanoja Rial, CEO & Founder of LeAds, a Digital marketing and advertising agency in Miami that you can visit at www.msalesleads.com
You can read our previous article in the following link:
https://www.msalesleads.com/how-to-advertise-in-miami-news-websites/