Lead companies are helping Connecticut businesses
Lead Companies Can Help Turn Your Small Business Into A Much More Known Business
There are many great lead companies out there that can help a small business go from relatively unknown, to a business that either can't keep enough product on their shelves to meet its new-found growing popularity. Or, from a business that offers services that stay booked out for weeks on end. All it takes is some determination on the business' end, a mindset that you are in this business marketing campaign for the long-haul, and the evaluation of some of the top lead companies online today.
As mentioned before, there are many high-quality lead companies who have an incredible reputation for helping businesses grow to the levels they envisioned. However, a savvy businessowner needs to look deeper and look at the entire picture of what these lead companies can actually offer. This will let you know if you have found the right one that can also serve as a "one-stop-shop" for all your online marketing needs to round out your online marketing campaign.
What do we mean? Well, everyone knows that the company Google is the leader in helping businesses grow online and get found online by customers they normally would have not ever been able to find on their own. But, Google can round out all their online marketing needs that some businessowners forget about. Not only can Google help you with Pay Per Click ads (PPC) which is a huge part of any sound online marketing campaign. In addition, they can also help you create videos about your services or products with the use of another service they own and offer which is popularly known as YouTube. With the short attention spans most of today's consumers have, creating either short "how to" or "who & what" videos about your business has proven to be a massive marketing tool that should be in your arsenal of online marketing tolos.
One Connecticut Small Business Put This Practice To The Test And Are Thriving As A Result 
As more and more small businesses are discovering the powers of Google and how it can help them reach their business goals, they are discovering that Google is even much more than they read about online.
Brotherly love. We all have heard this phrase once or… a million times in our lives. Two brothers from Connecticut put this on display when they decided to take their childhood love for tree houses, to create something much more that could change the lives of children and adults.
Back in 2010, brothers James and Ryan McCarthy decided to build a tree house for James' son and Ryan's nephew, together. The two brothers quickly were brought back to a time in their lives where life was simple, and they created their childhood memories. The McCarthys' had so much fun creating this tree house, and it looked so amazing, they got an idea to start a custom tree house service called The Tree House Brother. It did help that the McCarthys' were fourth-generation carpenters and were very skilled with wood. However, the two brothers knew they were amazing at building these tree houses, but didn't know how to spread the word to the masses.
They did their research and found Google AdWords, which is a PPC online advertising tool that millions of businesses are currently using today. Every company using Google AdWords may or may not enjoy the same success. Many different factors such as the keywords your business is targeting play a huge role. However, for the brothers, within one full week of advertising using Google AdWords, they started to get real calls from real customers for the first time in their young business.
"Using Google and the Internet to reach out and get customers is different from the way we used to do things," James says. "But it's beneficial for us as builders. Being able to target the areas that we want to target—that's everything for us. It makes it possible for us to do what we do." The return on investment has been sky-high. "One 75¢ click onto our website could turn out to be a $20,000 job," James said.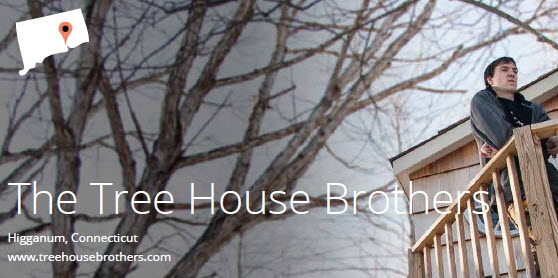 By 2012, the McCarthys' had doubled the number of built tree houses. The growth is not stopping there for them either. They expect a 50% jump in built tree houses in 2015. To achieve this sustained growth, the brothers also utilized Google + and YouTube to showcase their tree houses, and how simple or luxurious they can custom these tree houses to be.
Giving Back To The Community
The brothers first starting building tree houses for their family, but quickly saw the effects these little houses had on kids, and even adults. The brothers believe that every child, regardless of their social economic status, deserves a special place to hangout out close to home, and where they can make childhood memories with friends. The McCarthys' have built up a reputation of giving back. To date, they have donated many tree houses to children's charities and even the large ones such as The Make-A-Wish Foundation and family homeless shelters too. One of their efforts was even featured on the nationally televised TV shoe program called The Today's Show.
"Not only are we making their dreams come true," says James, "but it's a dream come true for us, too."
Google By The Numbers and Connecticut  https://www.thinkwithgoogle.com/
The McCarthy's story is just one of thousands where a business turned to Google, and all they have to offer, to help them get their business' name out there, and reach their targeted customer bases. In 2014, Google helped Connecticut businesses reach a combined total of 1.59 billion dollars of economic activity. Google has many sales tools to help businesses. In the same year, 18,000 businesses located in the great state of Connecticut benefited from using Google's adverting tolos.
Google themselves, gave away $1,710,000 of free advertising to local Connecticut non-profits to help them out and their causes through the Google Grant Program.
If you are ready to take your business to the next level, LeAds can help you create an adverting campaign using the full power of all Google has to offer to help your business stand out from the pack.
This article was written by the LeAds copywriting team. LeAds is a Google Lead Company, specializing in Google AdWords https://www.google.com/adwords/ and Google SEO in the United States. Please visit our website at www.msalesleads.com for more information about making Google Search and AdWords work for your business.
You can read our previous article in the following link:
https://www.msalesleads.com/lead-generation-service-aids-colorado-businesses/
"The data in this article was based from the Google USA Report 2014."