Lead Company Way to Success for Arkansas' Businesses
Lead Company Makes Financial Impact on Businesses in Arkansas
Arkansas is home to a wide range of businesses and non-profits. Many of these businesses are local and get business from word of mouth. However, they are missing out on a great opportunity and potential. The Internet and Google Searches, in particular, could offer them more exposure and more business. The key is finding a lead company that can help them to find the best ways to get that exposure and additional traffic to their website and their business.
While there are many companies that claim to move you up in the Google search rankings, if it is not done correctly, it can harm your site more than aid it. Quality leads from people who are interested in your product or service are essential to take your business to that new level that you are looking for. Here is one example of an Arkansas business that finally figured out that their website could offer them so much more business.
The Root Café Finds Opportunity In Website
The Root Café offers much more than delicious farm to table food. They additionally offer locally sourced coffee and beer. "Around 75 percent of our food cost is spent with farmers and producers within the state. That ranks us in the top half of one perfect of farm-to-table restaurants nationwide." While they have been known for offering good, organic cuisine, they wanted more people to learn about their offerings.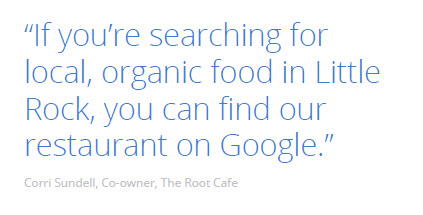 Jack and Corri Sundell understood the potential that their website had and when The Root Cafe (www.therootcafe.com) was featured in the docuseries, "Growing America: A Journey to Success," they found that to be even more true. The MBA students who were competing on the show advised them to make their website more mobile friendly, based on analytics that revealed that "Around 50 percent of our customers search on their smartphones," says Corri. They launched this more mobile friendly version in late 2014 and saw it make big gains in their business.
Jack and Corri realize that bringing new business to their restaurant is about much more than them. It helps the entire community, including the farmers and other small businesses. They focused on their Google tools, using their Google My Business listing to post hours, directions, menus, pictures, and reviews, as well as community events that they are hosting or are part of.
"There's a huge sense of pride in Little Rock and around Arkansas for the burgeoning food community. We're fulfilling our mission of building a community through local food. And the web is helping us to do that,"
says Jack. From using YouTube to share their business and the local farms and businesses that they work with to using Google AdWords (www.google.com/adwords) to help them to move up in the rankings, everything works together to help them to increase their success and move their business to a new level. The biscuits and gravy don't hurt either.
Arkansas Businesses Seeing Gains in Economic Activity
Both small and large businesses, as well as non-profits, are finding that website activity is essential to grow your business. In Arkansas, $733 million was spent over the Internet in 2014. Those that took advantage of the Internet and the marketing that it could offer them were able to get a piece of this financial gain. However, those that are still not sure how the Internet can work for them missed out. If you were in the latter category, it is not too late. You simply need to find a lead company that can help your site to get the quality traffic that is needed to increase profits.
Lead generation services can help you to position your website in a way that will allow you to move up in the search engine rankings. Using Google AdWords Search, Google AdWords Display, and other Google tools, they can ascertain the best keywords to use for your site, as well as how to make it more friendly for everyone that visits it to give you maximum impact. While many people do not see the financial benefits to a company like this, lead generation can offer you big results, if it is done in a way that offers you quality leads.
While anyone can claim to do this type of work, it is not a matter of doing a few things and being done. It is a continual process of looking at Google Analytics and using the different tools to help your site to get noticed. That is why you want to choose an experienced lead company that has a proven track record of results.
Non-Profits Seeing Big Results From Google
Non-profits depend upon donations to keep them going and to do the work that they are trying to do. Without these donations, they are not able to meet their responsibilities and their goals. Even non-profits can see big results from thinking about the Internet differently. While they may have seen it as a way to show people what they are doing, it can also be a valuable resource for raising funds as well. The key is to make it easy for donors to find you and make it easy for them to donate.
A lead generation service can do the job of making your site easier to find with a search, and many times they can recommend ways to make your site friendlier, whether on a mobile device or a computer. This can make a big difference in your donation level to help you to meet your financial goals now and in the future.
LeAds is a lead company that can take the tools that are offered by Google and turn them into additional exposure and traffic for your site. By using their services, you can better meet the needs of your prospective clients and customers, as well as get your piece of the financial pie in Internet sales and donations.
This article was written by the LeAds copywriter team. LeAds is a Google Lead Generation Agency, specializing in Google AdWords, in the United States. Please visit our website at www.msalesleads.com for more information about making Google Search and AdWords work for your business.
"The data in this article was based from the Google USA Report 2014."
You can read our previuos article in the following link:
https://www.msalesleads.com/lead-generation-campaigns-to-grow-your-business/