This article is addressed to small business owners and marketing managers that are searching for lead generation agencies for small businesses to request a proposal for their lead generation campaigns.
We will list in this article the top lead generation agencies for small businesses in USA to make the search task easier for you.
"Lead generation is the number one need for businesses today. Luv4 Marketing offers complete and affordable lead generation services for businesses looking to grow online. Whether you are looking to build a marketing list/database, or generate more direct sales we have a lead generation package ready for you. Our lead generation packages include landing pages, Pay per click advertising setup & management and CRM integration. As part of any package you will be able to use our high performance book-a-call system where prospects book straight into your calendar."
You can call 702-439-0025
MSalesLeads – Miami, Florida
"We design, launch, and maintain lead generation campaigns for B2B and B2B small businesses."
"We help small businesses to get qualified leads each month in a permanent manner by designing, launching, and maintaining advertising campaigns and content marketing campaigns."
You can call 305-918-9793 or you can write juliosanoja@msalesleads.com
Leading Results – Concord, North Carolina
"Sharing is caring and inbound is about creating and sharing content with the world. By creating content specifically designed to appeal to your dream customers, inbound attracts qualified prospects to your business and keeps them coming back for more."
You can call 888-717-1715 or you can write info@leadingresults.com
Mesh Live Build – Manchester, New Hampshire
"Lead generation is a method of obtaining new business. Generating new leads used to involve standing at trade shows next to elaborate displays or traveling around the world, attending conventions and other events in hopes of landing new contacts. While such tactics are still widely used, the internet has provided lead generation options that allow you to remain in your office or otherwise "on premise." Despite the many benefits of lead generation, many companies are still facing challenges with the marketing strategy."
You can call 603-606-1125
Hop in Top – Trevose, Pennsylvania
"Content marketing is a strategic form of marketing that focuses on creating and distributing content such as videos, and social media posts to a specialized target audience with the aim of increasing your customer base and ultimately increasing your profits. It is meant to attract attention to your site and gradually generate leads and conversions for you."
You can call 888-850-2880
Web Page FX – Harrisburg, Pennsylvania
"WebpageFX is a full-service digital marketing agency, and we create custom strategies for each of our clients based on their needs and goals."
You can call 888-256-9448
Eminent SEO – Mesa, Arizona
"Eminent SEO makes custom websites and brand marketing strategies for small to medium sized businesses who need an impactful campaign that gets results."
You can call 480-466-8760
Iron Paper – New York, New York
"We power inbound marketing programs that generate qualified leads and nurture sales opportunities. We build vetting and nurturing systems to ensure that our clients can scale up their marketing and sales efforts intelligently."
You can call 212-993-7809
Social Climb – Englewood, Colorado
"Social Climb's lead generation services provide our clients with new business opportunities with exclusive leads for small business. Unlike the big expensive inbound lead generation services our focus is on helping the smaller local business. Every business needs leads for continuous growth year after year. One of the biggest reasons for small business failure is lack of sales."
You can call 303-900-4688 or you can write info@socialclimb.org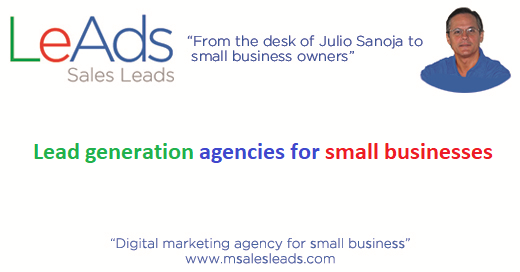 You can read our previous article in the following link:
https://www.msalesleads.com/how-to-take-your-small-business-online/
This article, and all our previous articles, are published originally at our Blog at https://www.msalesleads.com/category/articles/ , and then they are distributed in all our social network pages, and email marketing.
About the Author:
This article was written by Julio R. Sanoja, owner and founder at MSalesLeads, a digital marketing agency for small and mid-size businesses in Miami, Florida. We help small and mid-size businesses to go and grow their businesses online; position their brands, products and services online; and get qualified leads and new customers online. We have been doing this for the last 16 years. You can write me juliosanoja@msalesleads.com or you can call me 305-918-9793.