This article is addressed to B2B small business owners who need to hire a Lead Generation consultant.
We will list in this article several Lead Generation consultants, to help B2B small business owners select their best consultant option for their lead generation campaigns.
Before we present the Lead generation consultants list, we would like to make few comments about lead generation campaigns:
There are two main lead generation campaigns for a B2B small business which are content campaigns and advertising campaigns.
Content campaigns consist of the production and distribution of articles about the B2B small business products and services, and customer needs. Articles should be originally published in the B2B small business website WordPress blog, and then they should be distributed in the B2B small business Google marketing products, social networks business pages, social networks groups or communities' pages, guest blogs business pages, and send to the B2B small business email marketing list.
Advertising campaigns for B2B lead generation campaigns consist of two main campaigns, a Google AdWords Search campaign and a LinkedIn Sponsored Content Ads campaign.
Following we present some Lead Generation consultants:
Andrea L. Allen
Andrea has 7 years of experience as a lead generation consultant.
This is what Andres says about herself in her Bio:
"WHAT I DO: I generate qualified business leads for companies through a smart combination of laser-focused email campaigns, SEO, and social media ad funnels.
WHO I HELP:
1. B2B / MEDIUM-SIZED BUSINESSES WITH MINIMUM $250,000 PLUS ANNUAL TURNOVER
I generate qualified lead prospects through laser-focused marketing using a combination of great text content, video marketing and, most importantly, traffic funnels built around the giant social media networks, including Facebook, YouTube, Pinterest, and LinkedIn.
2. START-UPS (BOTH ANGEL-FUNDED & BOOTSTRAPPED)
You often struggle to access a constant stream of potential client leads, but you're simply too busy building your fledgling business to spend time chasing 'friends', 'fans' and 'followers'! Increase sales and speed up your prospecting process with the delivery of hot leads every week. With creative cold emailing campaigns and paid Facebook Ad traffic funnels you can virtually eliminate cold calling and clunky, old-fashioned methods like budget-sucking YP ads."
Julio is a digital marketing consultant and strategist for small and mid size businesses. Julio helps small and mid size businesses to go and grow their businesses online; get qualified leads and new customers; and position their brands, products, and services online. Julio has been doing this for the last 16 years.
"Our agency has been featured at Expertise and Upcity as one of the top digital agencies in Miami. We have also been featured at CV Magazine as a most outstanding agency for lead generation solutions in Florida."
Here are 2 case studies from our agency for 2 lead generation projects, one for a customer, and the other for our own agency:
https://www.msalesleads.com/how-ok2go-got-40-qualified-leads-in-one-month-using-linkedin-sponsored-content-campaigns/
https://www.msalesleads.com/how-to-get-on-the-first-page-of-google/
Ryan Greene
Ryan has 4 years of experience as a Lead Generation consultant.
This is what Ryan says about himself in his Bio:
"Lead Generation and I.T. Specialist at Opt-in Medical"
Elan Maseri
Elan has 9 years of experience as a lead generation consultant.
This is what Elan says about himself in his Bio:
"Over 9 years of hands-on experience as a result driven sales and marketing professional in the Call Centre industry furnishing outsourcing solutions. Firmly committed to optimizing Return on Investment for clients by enhancing efficiency and increasing both productivity and profitability for the company. Proven track record of exceeding clients' back end prospect, reducing customer acquisition costs and Quota attainment. Excellent response to short deadlines and high pressure environments with innovative solutions. Outbound Marketing Guru that will guide you in determining your appropriate target market and monitoring your progress with modern web tools thus improving traffic-to-sale conversions. Proficient in administration of dialer systems such as VICIDIAL and FIVE-9, with the competence to troubleshoot software. Developed and managed multiple successful Marketing campaigns that yielded tailored, compliant leads. Generated Leads utilizing an array of resources including permission-based e-mail marketing, referrals, ad responses and broad outreach. Responsible for supervising numerous call centers both on-shore and off-shore. Long-Time entrusted advisor and liaison for several DME companies and Pharmacies. Remarkable understanding of ICD-10 and HIPAA. Proactively identified and recruited top level personnel in the Financial and Healthcare industries. Keynote speaker for conferences and conventions conducted on sales. Exceptional communication, interpersonal relations, managerial and team work skills. Work ethic is impeccable. Positive and Expectant attitude has become contagious and Inspired coworkers. Articulate and Passionate. Uncanny Ability to turn negative press into positive branding." 
Stephanie Clarke
Stephanie has 3 years of experience as a lead generation consultant.
This is what Stephanie says about herself in his Bio:
"Lead Sales Consultant"
James Ruppel
James has 20 years of experience as a lead generation consultant.
This is what James says about himself in his Bio:
"WSI is one of the largest digital marketing agencies in the world with over 1,000 offices in 81 countries.
We increase leads and sales through:
* Online Lead Generation (Integrated Search Advertising & Display Advertising Optimization)
* Search Engine Optimization Consulting (National, E-commerce and Multi-Local)
* Landing Page Optimization
* Content Marketing
* Digital Marketing Training and Coaching
* Competitor Analysis
* Website Analytics Tracking & Reporting
* Social Selling Training for Sales Professionals
Would you like to discuss digital approaches to driving leads and sales for your business? Please call me at 631-615-2983, or email me at jruppel@wsi-iwm.com.
Proven success increasing sales leads and revenue at an exceptional Return on Investment for local, national and international corporations through established and cutting edge, direct response marketing and advertising campaigns.
Over 30 years of demonstrated ability to drive sales with verified marketing strategies.
As part of the world's largest Internet marketing company, we bring the power, knowledge and experience of thousands of Digital Marketing professionals around the world to implement verified solutions to grow your business.
Established success generating qualified sales leads at an outstanding ROI that promotes repeated investment.
Core Belief: Marketing and advertising should never be an expense, but an investment that reaps sales rewards far in excess of any expenditure.
Specialties: Internet Marketing Solutions, Digital Marketing Solutions, Conversion Optimization, Internet Business Analysis, Paid Search Advertising (PPC) management, Search Engine Optimization (SEO), Social Media Marketing, Content Marketing, Brand Marketing, Online Competitor Analysis, Blog Optimization, Online Reputation Management, Strategy Blueprint, Website Design & Development.
Call 631-615-2983 or email jruppel@wsi-iwm.com for more information or a complimentary Internet Business Analysis".
Eric Manstof
Eric has 4 years of experience as a lead generation consultant.
This is what Eric says about himself in his Bio:
"Creative, strategic, and organized digital marketer.
Specializing in customer acquisition, marketing automation, and messaging.
Top take away: ran daily strategy and execution at small agency and bootstrapped my startup to profitability utilizing paid acquisition, a/b testing, strong messaging, and excellent project management.
Key differentiator: specialty in human psychology through counseling background.
4yrs marketing experience. 7 years' work experience."
Ixta Gerard
Ixta has 9 years of experience as a lead generation consultant.
This is what Ixta says about herself in her Bio:
"Ixta Gerard, a bilingual and bicultural public relations professional, has assisted international companies to market their products and/or services to the US Hispanic and Latin American markets. Her main responsibilities have consisted of implementing PR communication programs for clients in major strategic areas to successfully engage consumer, CBO and B2B audiences.
Throughout her career, she has worked for major global companies in the fields of finance, technology, healthcare, tourism, education and CPG. Her comprehensive vision of digital and traditional media helps her reach and engage key audiences in order to achieve the best results for her clients' projects.
Some of Ixta's specialties include experiential marketing, social media strategizing, crisis management and public image improvement. She has also been instrumental in harnessing the power of digital tools, including Facebook, Twitter, YouTube, Podcasts, Second Life, online video archives and blog monitoring.
Ixta has worked for global renowned firms including Burson-Marsteller, Edelman and Fleishman-Hillard. Some of the accounts that she has worked with include Western Union, Hewlett-Packard Latin America (key member of the Public Relations team for Corporate and TSG business areas), Nextel, SAP, Bayer Schering Pharma, Pfizer, P&G, Colgate, Got Milk?, Sara Lee, Wrigley, MillerCoors, the Mexico Tourism Board among many others.
She holds a Bachelor's degree in Communication Sciences from the Universidad de las Américas (UDLA) in Puebla, Mexico.
Ixta currently lives in Miami, Florida with her husband and son.
Specialties: US Hispanic business, Latin America markets, media relations, crisis management, event management, product and corporate marketing. Industries include: technology, finance, pharma, tourism, education and CPG."
Chris Darlin
Chris has 9 years of experience as a lead generation consultant.
This is what Chris says about herself in her Bio:
"As the Founder and CEO of Darling SEO, a local search engine optimization and online marketing consulting agency, I partner with contractors to increase rankings, leads and phone calls from their online marketing efforts.
Here are a few of the many results I've driven for my clients as a local SEO specialist:
• Delivered comprehensive Local SEO and Digital Marketing services to a local contractor. I helped him to rank #1 for targeted keyword phrases in Adwords, Maps and Organically in Google. Providing a comprehensive end-to-end solution for this company includes building, hosting and managing his websites.
• After working with another contractor on their local SEO we saw a surge in keyword ranking movement of 451 positions. This client has gone from nowhere to the top 3 in maps and organic results for many keyword phrases.
• While working with a builder to increase the amount of keyword phrases they rank for, they grew from working in one city to working in 3 now. Year over year comparisons show that I have helped them increase their organic website traffic by over 167%!
• When I helped a client resolve duplicate listing problems in Maps for Local SEO, they immediately popped up to #1 positions for many of the keyword phrases I am targeting and the phone started ringing again.
I also help CEO's 10x their business by improving their lead conversion processes.
Customized and automated lead conversion systems help medium to large businesses automate their sales processes and make their sales teams more successful. I am a certified partner of CyberFunnels; a done-for-you, end-to-end sales and marketing funnel solution.
Darling SEO and CyberFunnels combine to become a complete end-to-end automated sales and marketing system that finds, attracts, engages and converts new customers, clients or patients for your business.
If you want better results from your digital marketing efforts, schedule some time to chat https://calendly.com/cldarling/15min/".
Philip Valdes
Philip has 10 years of experience as a lead generation consultant.
This is what Philip says about himself in his Bio:
"Phillip Valdes is an entrepreneur in the field of internet marketing."
"Generate leads for clients"
Tony Tavares
Tony has 8 years of experience as a lead generation consultant.
This is what tony says about himself in his Bio:
"Business Owners / Professionals / Contractors
You know how companies in Florida struggle to get customers from the internet?
I solve this
I do it by getting them in front of local consumers that are searching for their services and products
metromediablitz@gmail.com
http://metromediablitz.com
I have been very blessed and I've had great success, helping thousands of people over the years, both online and offline.
As more and more people go online searching for products and services, my goal and vision is to successfully help local business owners increase their traffic volume and profits by helping them with new customers".
Nick Bokowy
Nick has 4 years of experience as a lead generation consultant.
This is what Nick says about himself in his Bio:
"Helping b2b & b2c companies generate leads and close more sales."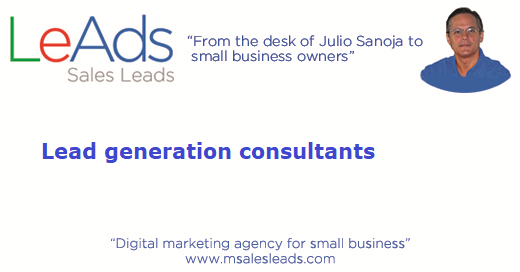 You can read our previous article in the following link:
https://www.msalesleads.com/adwords-consultants-in-usa/
This article was written on February 25, 2018.
This article, and all our previous articles, are originally published at our business WordPress Blog at https://www.msalesleads.com/category/articles/  , and then they are distributed in the Google search console; in all our business social network pages and groups; in all our business third party blogs; and in our business email marketing platform.
About the Author:
This article was written by Julio R. Sanoja, founder at MSalesLeads, a SEO agency in Miami, Florida. We help businesses all over the world, to go and grow their businesses online; position their brands, products and services online; and get qualified leads and new customers online. We have been doing this for the last 17 years.
You can write me juliosanoja@msalesleads.com or you can call me 305-918-9793 if you need our services.
You can read our recent case studies at the following link:
https://www.msalesleads.com/category/case-studies/
Julio R. Sanoja is a consultant, strategist, and speaker about Google; SEO; and the first page of Google. Julio offers online and in company Google SEO and first page of Google consulting, strategy, coaching, conferences, training, courses, and workshops.
Our agency has been featured by Design Rush as one of the top 25 SEO agencies that can adapt your SEO strategy in 2019.