Lead Generation Specialist Aids in Big Profits for California Businesses
Lead Generation Specialist Increase Your Search Engine Rankings
Small to medium to large businesses all have one thing in common, and that is the potential for growth via the Internet. Google searches are one of the most common, and if you do not rate high in the search listings, you may be overlooked. That is why it is essential to find a lead generation specialist that can help you to move up in the search engine listings and get the exposure to lead to more traffic that will purchase your product or service, or make a donation to your non-profit.
Many people don't understand what needs to be done to move up in the search rankings, or they are told to do things that won't work or will cause them to move even further down the listings. That is why you want to get a professional to help you to increase your Google ratings. Lead generation specialists focus on this segment of business marketing, so be sure that you find someone that has experience and that has a proven track record of success.
Mistake Leads to Big Profits for One California Company
Jennifer Constantine enjoyed making homemade pannacotta (Italian custard) and one night in 2010 she put it into the refrigerator to set up and it froze solid. Before she threw it out, her fiancé tried one and thought it was delicious. JC Pie Pops was born on that day. Jennifer sold out of a cart in LA in 2011 and by 2013 she and her partner rolled out JC Pie Pops in almost 400 grocery stores. "It just exploded. Customers were excited about something that reminded them of their childhood, but in a very modern and fun way," says Jennifer.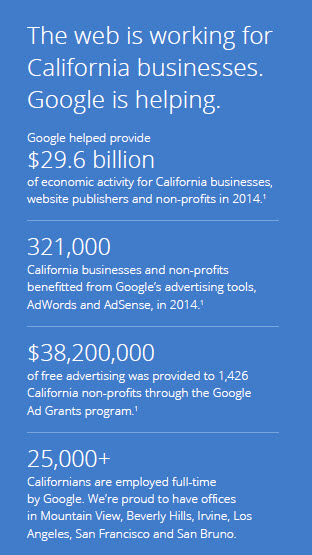 Jennifer understands that the company website and social media engage her customers. "People truly live online now. The end goal is to get them to a store to buy the product, but they can't do that without knowing where to get it and what it is they're going to buy," she says. JC Pie Pops uses Google for Work to keep everyone connected, as well as other tools to gain exposure and to draw more prospective customers and distributors to the company. All of these tools work together to ensure that everything runs smoothly and efficiently.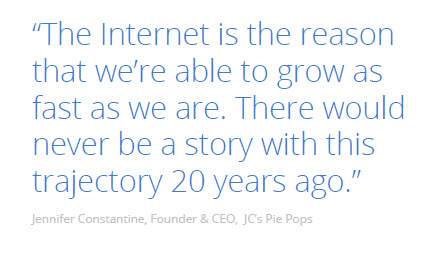 JC Pie Pops is in 3000 stores nationwide today and has plans for expansion into 10,000 stores by 2017. They are creating new product lines, have hired more employees, and are looking at 10 times year after year growth for this year. "The Internet is the reason that we're able to grow as fast as we are. There would never be a story with this trajectory 20 years ago," explains Jennifer.
Connecting with customers is an essential part of Jennifer's business, and she uses her website and social media to connect. Parents send pictures of their children eating a JC's Pie Pop, and she wants them to connect with her company like this. "This product is like America on a stick. So we're going to make sure the business stays that way, too."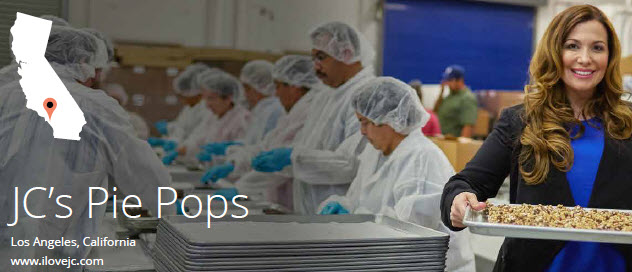 California Businesses and Non-Profits Make the Most of Google Marketing Tools https://www.thinkwithgoogle.com/
California has long been a leader in the new and exciting field of technology. Businesses in California have long understood the importance of the Internet in their business equation. In 2014, $29.6 billion were spent over the Internet in California to businesses, non-profits, and website publishers. This is an amazing amount of money, but it could be even higher if everyone understood how Google could help their business or non-profit.
To get a piece of this economic activity, you have to position your website in the best position possible. This means that you need to have the right keywords and information that will catch the search engine's attention and move you up in the rankings. For most searches, prospective customers and clients do not look past the first page or two of search results. If you are not near the top, then your business may not even come up, and this means less traffic and less business. Why would you not want to do everything you can do to move up in the rankings?
Non-Profits See Peak in Donations Using Online Tools
Non-profits are dedicated to making change in the world, and this means that their money is carefully spent to make the biggest impact. Many non-profits do not see online marketing as an important step in their fundraising, but it can make a big difference and can more than makeup for the cost of hiring a lead generation specialist.
Google has aided 321,000 California businesses and non-profits in 2014 to increase their profit and donations. By using AdWords and AdSense, they have made the Internet into a very lucrative way to change the way that they sell their products or services, or to fundraise.
California is known for many things, and it is also the home of Google. With offices all over the state, it is no wonder that so many California businesses and non-profits have taken advantage of what they have to offer. If your business or non-profit depends upon word of mouth to get the word out about what you have to offer, think about how you market differently. By using the Google marketing tools, such as Google Analytics, AdWords, and AdSense in conjunction with each other, you can help prospective customers find your site and you can gain their business or their donation.
Make no mistake, by using the Internet you can get new, qualified leads and increase your sales, orders, or donations. A lead generation specialist, like LeAds, can help you to create a site that will get noticed and set up a program that will get your business higher in the rankings.
This article was written by the LeAds copywriter team. LeAds is a Google Lead Generation Specialist, specializing in Google AdWords https://www.google.com/adwords/ and Google SEO, in the United States. Please visit our website at www.msalesleads.com for more information about making Google Search and AdWords work for your business.
"The data in this article was based from the Google USA Report 2014."
You can read our previous article in the following link:
https://www.msalesleads.com/lead-company-way-to-success-for-arkansas-businesses/