Pay Per Click Services Combined with Google Search Results Can Maximize Your Profits
Pay Per Click Services Can Help If you are looking to maxi

m

ize your advertising profits with Google.
Pay Per Click Services are among the most efficient advertising tools available through Google. By choosing your audience and providing the sponsored links (in which you pay per click), you are:
Expanding Your Reach Nationally
Capitalizing on your Precious Time
Maximizing You Marketing Profits
Creating Brand and Name Recognition
…And so much more!
Pay Per Click Services offers an additional advantage to standard Search Engine Optimization (SEO) available through Google. With Pay Per Click services, you have targeted your audience by creating a sponsored link based on specially chosen key words and phrases. To best maximize your marketing budget, and to avoid paying a premium in hopes that people will click on your link to view your website, Pay Per Click Services allows you to pay only if your link is clicked. This will potentially weed out uninterested traffic that organic searches may provide.
When choosing Pay Per Click Services, it is important to utilize companies that have proven success. Some companies do offer pay per click services, but their clients ultimately are paying for search robots who simply click the link to drive up the profit to the service company. Therefore, look for pay per click services whose customers boast about higher return on investments while obtaining qualified leads. You may find that you are paying a bit more for your pay per click services, however, you may also find the leads are more likely to become sales, making your investment worthwhile.
Additionally, your pay per click services providers should offer transparent billing, such that you can review the clicks for which you are being charged. If this is not available through your provider, move on and find another provider. Non-transparent billing often means your provider has his own team working to drive up your clicks to increase their profits while minimizing yours.
Noah's Park and Playgrounds and Google in Oklahoma
Many businesses have found the need to adjust to the new virtual marketplace, even after having had success for several years with little online presence. Such was the case with Noah's Park and Playgrounds in Oklahoma. Opening in 2001 by a husband and wife team, Shannon (Shan) and DeAnn Shepherd. Noah's Park and Playgrounds had an online presence with a website, but did not have a true virtual market.
Noah's Park and Playgrounds opened in 2001 by designing and installing custom park and playground equipment. It wasn't until 2005 that they built their first website, giving them what was a necessary online presence. In 2011, under the direction of their new marketing guru, they began to offer online sales, which led them to Google.
In 2011, they began using Adwords, Google's pay per click service. "We stuck our big toe in, and realized it was going to have a really good impact. In the year we started AdWords, we had over 30 percent growth in our profit," Brenda Flescher, web and marketing director for Noah's Park and Playgrounds said. That's when they decided to begin offering products and services online and watched their profits continue to climb.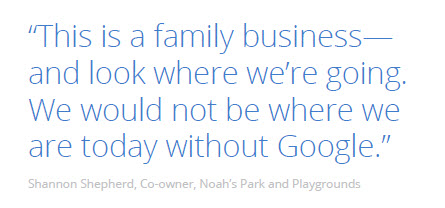 Now, Noah's Park and Playgrounds not only witness growth in the markets where they have sales representatives, but they are experiencing growth in markets where there are no "boots on the ground." Sales have climbed in all 50 states. They continue to budget 75% of their online marketing budget to Adwords, Google's Pay Per Click program, as they attribute their success from going from a small family-owned business to a national conglomerate, to this service.
Due to their wide reach and need for easy portability, Noah's Park and Playgrounds have begun using numerous Google Services to create an easily shareable workspace for clients to access and approve drawings and designs. Some of the tools used by Noah's Park and Playgrounds are:
Shan and DeAnn know that if not for Google, they would still be selling only to the areas in which they could maintain a sales force, which may have only been parts of Oklahoma and its bordering states. However, with the help of Google and its Pay Per Click Services, they are now able to design and install custom equipment to all corners of the United States.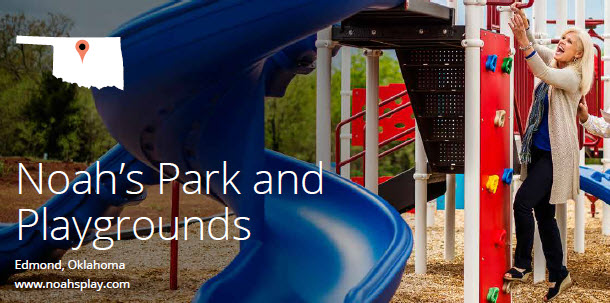 As long as the world is shopping online, Noah's Park and Playgrounds will continue to maximize their profits with Google's Pay Per Click Services. Shan and DeAnn know that they continue to grow at impressive rates due to their willingness to utilize all that Google has to offer. "In 2014, every dollar we spent on AdWords resulted in over $20 in profits," Brenda shared.
As Noah's Park and Playground continues to grow and expand into new territories, and it will continue to utilize all that Google has to offer for advertising, whether it be maximizing their SEO or advertising through their Pay Per Click Services. Shan and DeAnn know that if not for Google, they would still be a local small business just surviving in the market.
Google (www.google.com) By The Numbers In The State Of Oklahoma
Oklahoma is not known as an epicenter for new and innovative businesses. Therefore, in order to make an impact nationally or globally, companies in Oklahoma need to find new and innovative ways to keep up with commerce and getting the word out, which is exactly where Google excels.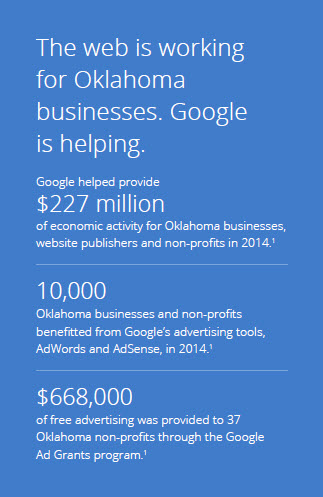 Noah's Park and Playgrounds is one of many business in Oklahoma who benefits from Google's suite of tools and products. For example:
In 2014, Google helped Oklahoma businesses, website publishers, and non-profits see $227 million of economic activity.
Approximately 10,000 Oklahoma businesses and non-profits have benefitted from Google's tools, such as Adwords and AdSense.
Google Ad Grants Program raised $668,000 of free advertising to 37 Oklahoma non-profits.
This article was written by the LeAds copywriting team. LeAds is one of the most experienced Google Pay Per Click Services Agency, specializing in Google AdWords https://www.google.com/adwords/ and Google SEO, in the United States. Please visit our website at www.msalesleads.com for more information about making Google Search and AdWords work for your business.
The data and the images in this article were taken from the Google USA Report 2014.
You can read our previous article in the following link:
https://www.msalesleads.com/adwords-service-and-google-in-ohio/