PPC Consultants in Iowa Use Google To Help Businesses Weather the Storm.
PPC consultants in Iowa use Google to help businesses stay open and prosper no matter what obstacles they may face.
PPC consultants are among the most important pieces to your marketing puzzle imaginable. They not only can help you devise an internet marketing plan but they also bring to the table their expertise in shopping trends for online markets for your industry. During tough economic times this can be the difference between staying open or closing your doors permanently. Understanding how people shop and research online and utilizing that knowledge to put your business in front of them ensures both web traffic and foot traffic to your business at a much higher percentage than not keeping yourself visible.
Working with PPC consultants exhibits commitment to your brand as well as your customers. You are giving the impression that you want to be found and do business in a manner that makes your customers happy. It also provides the appearance that you are willing to spend money to give your clients quality, even if working with PPC consultants is not as costly as it may appear. Working with PPC consultants allows you to:
Stay in Front of Your Market
Appear Cutting Edge
Maximize Your Marketing Budget
Concentrate on Your Business
…And More.
PPC consultants are necessary to bring your business into the 21st century and battle the tough economic times. These professionals understand how internet search engines operate and add the benefit of boosting your business to the front of the line. While organic SEO marketing is useful to begin the process, you need to maintain your presence even when you are not in front of your computer. That is where PPC consultants are most useful; they help to maintain the internet presence you have worked hard to achieve, allowing you to take a break from work and enjoy life for a minute. This is sometimes unheard of as a business owner!
While your PPC consultants do not need to be experts in your business, they are experts in your market. They help analyze and stay on top of shopping and searching trends to see how your customer base shops. They keep data relating to specialized customer bases such as the elderly, young adults, professionals, families, and a combination of all of the above. With this information you can find your customer base while they are looking for you and not wait for them to find you.
Pierson's Flower Shop & Greenhouses and Google in Iowa
Sometimes a seasoned business needs to adopt new trends to continue to provide the services and products that people have come to know and love. Pierson's Flower Shop & Greenhouses is one example of this phenomenon. Opened in 1928, Pierson's, family owned and operated, has weathered numerous storms both figuratively and literally. During the Great Depression, the family had to turn the business over to the bank; however, they were able to buy it back a few years later. Then, 80 years later, they began cleaning up from the devastating 1,000 year flood that hit Cedar Rapids only to enter into the 2008 economic recession. As owner Allan Pierson watched businesses close their doors all around him, he knew he wasn't ready to quit. He turned to the internet and Google. Without these tools, "I really do not think I would have made it," he said.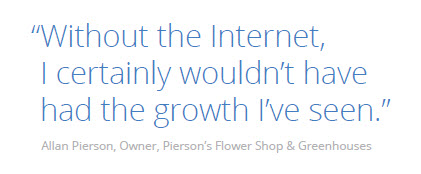 In 1990, Pierson's created its first website, but they did not utilize it for the advertising it could provide until 2008. For five months their main store was closed due to the floods and then the recession continued to dry up their corporate business. "We decided at that point we needed to put more money into search and email marketing and those sort of things."  Allan devised a marketing plan that included Google AdWords as well as Google Analytics to help track how the AdWords campaigns were working. Pierson's Flower Shop and Greenhouses benefits from many Google products including:
 …And More.
Today, Pierson's online orders are a thousand or more a year, up from the few hundred orders they would take online prior to 2008. 25% of their sales come from the web. Allan says the key is to "make sure you are relevant and that you leverage all of the things that the internet can do for you – AdWords, email, marketing, social media, search, paid search, all of those tools. One by itself might make a little bit of difference. But when you start adding them together, it really makes an impact."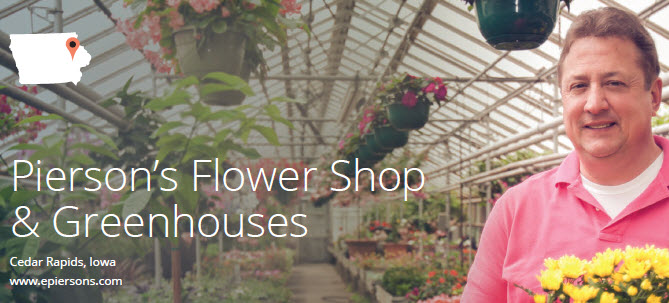 Google and the internet helped Pierson's Flower Shop & Greenhouses stay in business and come out on the other side even better than when they entered the storm. "Without the internet, I certainly wouldn't have had the growth I've seen."
Google By The Numbers In The State Of Iowa https://www.thinkwithgoogle.com/
Iowa is full of beautiful farmland and history. Its businesses are old and have been through the best of times and the worst of times. People in Iowa love to shop local and help their neighbors. However, when the recession of 2008 hit the States, people in Iowa, like many other places in the country, didn't necessarily have the means to shop anywhere, yet alone local. With the help of Google many companies were able to service their customers while cutting overhead expenses and ride out the recession.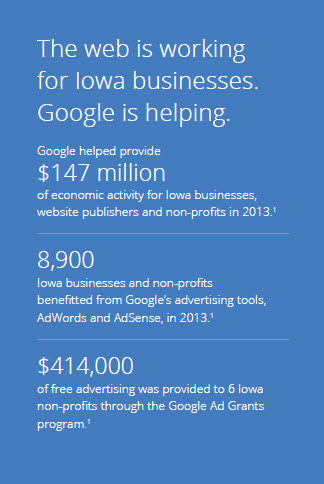 Pierson's Flower Shop & Greenhouses is one of many businesses in Iowa that benefits from Google's suite of tools and products. For example:
In 2013, Google helped Iowa businesses, website publishers, and non-profits see $142 million of economic activity.
That calculates to 8,900 Iowa businesses and non-profits benefiting from Google's tools, such as Adwords and AdSense.
Google Ad Grants Program raised $414,000 of free advertising for 6 Iowa non-profits.
This article was written by the LeAds copywriter team. LeAds is one of the most experienced Google PPC Consultants Companies specializing in Google AdWords and Google SEO in the United States. Please visit our website at www.msalesleads.com for more information about making Google SEO and AdWords work for your business.
The data in this article was based on the Google USA Report 2013.
You can read our previous article in the following link:
https://www.msalesleads.com/ppc-service/