Sales Lead Generation Services Big Part Of Indiana's Online Success
Sales Lead Generation Services From Google Help Indiana Local Winery Sees Big Impact
Having an active presence online is essential to most any business these days. Even if you focus your sales or services locally, unless you are living under a rock, you most certainly have clients or customers that do most of their searching online. That is why it is essential to not only have a website, but also take advantage of marketing tools, such as those offered by Google. There are many sales lead generation services that specialize in Google to help your site to move up in the search engine rankings and increase your profit and your traffic.
What do these services do exactly? They evaluate your site and make changes that will capture the notice of Google. Whether it is through some keyword changes, additions of media, or another tactic, a professional service will be able to use your Google Analytics to make changes and see how they work to continue making your site more search engine friendly.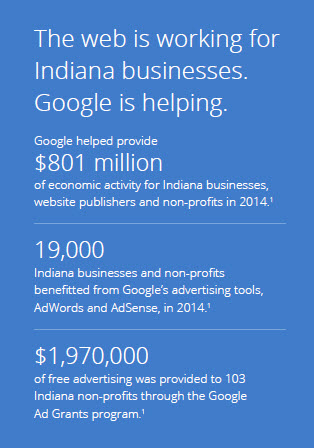 Google Marketing Helped Easley Winery Reach New Level
Wine is a big business all over the world, and Easley Winery in southern Indiana found a new way to help get the name of their winery out to prospective visitors and customers. Mark and Meredith Easley took over the winery that was owned by Mark's parents. The 40-acre farm was begun by his parent's making wine in their basement, and they were part of the push to change Indiana law to allow wineries to operate in Indiana.
Their award-winning wines were known in their area, but they were not as well known in other areas of the country. Meredith says of when they first took over, "There was something called the Internet. It was still pretty new. We didn't have a presence with a website, so we just jumped in." And jump in they did. Since 2001, their website has given them great growth in other states and even countries. They went from selling 3,000 cases a year to 60,000 cases a year since then.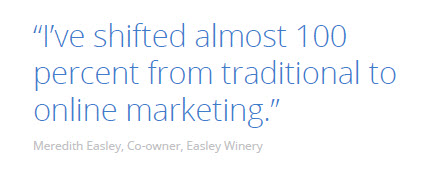 They use many of Google's tools, including Google Calendar, Gmail, and Google Analytics. Says Meredith, "Google Chrome is what we run on as a company, and we use Google Analytics to look at what's happening with our website. When it comes to creating Easley Winery's 'Internet face,' Google tools have always been my favorite, because they're so clean and easy to use. I've heard other people say, 'oh, try this, try that.' And I keep coming back to Google."
From being made in an Indianapolis basement to the shelves of major retailers in seven states and two different countries, Easley Winery has moved into the world of "competing with global companies." Being able to use their site for online promotions gives them the ability to make the same impression as larger companies and find their own niche in the wine industry.
Since they realize the potential, Meredith wants to keep the momentum going in the right direction. She wants to keep learning more about how Google marketing tools work and how they can improve the online presence of Easley Winery. A website redesign is in the works, and her goal is to "present the best version of themselves" online and offline. Google is her partner in doing that.
Sales Lead Generation Services Can Make the Difference For Your Company
Google is the largest search engine in the world, and the vast majority of people use it daily. This means big potential for your business if you make the most of it. Google Analytics should be your first stop, as it can let you know how your site is doing, including what keywords you are ranking for (you may be surprised) and how you stack up against other like sites. This is what is used to make a plan to help your site to move up in the search engine rankings.
There are other Google tools that can be used as well to help you to move up in the rankings. From Google AdWords to Google AdSense, taking advantage of these tools can get more traffic to your site, as most people will not even look past the first few pages of searches.
Non-Profits Can Get Big Impact from Google Marketing Tools
While most non-profits tend to depend upon fundraisers like events and sales for the money needed, there is much that can be done online to help increase the level of donations. A website that is search engine optimized by sales lead generation services can get you more notice, and if you make it easy to donate online, it can even increase your donations to help you to meet your goals.
While most non-profits tend to steer away from spending money, as they want to use their money for their cause, sometimes it takes a little money to make money (or increase donations). The good news is that through the Google Ad Grants program, you can get free advertising. In fact, there was almost $2 million of free advertising given to over 100 non-profits through the program. It may be something to consider.
Don't Wait to Make Your Impact On Google Sales Lead Generation Services https://www.thinkwithgoogle.com/
While you can leave things as they are with your site, why would you? Be like 19,000 other Indiana businesses that are benefitting from the advertising tools offered by Google. In 2014, these tools helped bring in $801 million to businesses and non-profits. Don't you want to be part of that? LeAds is one company that offers sales lead generation services to help you to move up in the rankings and increase profit and traffic.
This article was written by the LeAds copywriter team. LeAds is a Google Sales Lead Generation Services Agency, specializing in Google AdWords https://www.google.com/adwords/ , Google SEO and Sales Lead Generation Services, in the United States. Please visit our website at www.msalesleads.com for more information about making Google Search and Google AdWords work for your business.
"The data in this article was based on the Google USA Report 2014."
You can read our previous article in the following link:
https://www.msalesleads.com/online-lead-generation-services-make-difference-for-illinois-businesses/