SEO Consulting in Oregon Uses Google to Help Businesses Fill a Void.
SEO Consulting in Oregon Uses Google to Help Businesses be the Go-To Company to Fill an Essential Void of Necessary Products.
SEO Consulting is becoming the most important outside service you can utilize when building your online advertising campaign. This service helps you navigate the world of the internet to best market your business to the customer base that truly needs you. Without the help of SEO consulting, you are left alone to find your path through these murky waters and may easily get left behind by a bigger fish in this enormous see of the web.
When bringing innovation to the table, people may not even know they need you until they find you. If there has been a void in the marketplace for an extended period of time, many consumers are expecting this void to remain, and while they may see if anything has changed once in a while, they are not going out of their way, expecting a new, innovative answer to their everlasting problem of lack of availability. Therefore, you must utilize SEO consulting services to make sure you are there when they attempt half-heartedly to find you, through very specialized keywords, before moving on to the next topic. SEO Consulting can:
Keep you ahead of the search
Help you stay relative
Help you be seen
Help you navigate the internet for business
…And More.
A good business owner knows what he or she knows. However, a great business owner knows what he or she does not know and looks to experts to help fill that void. As a great business owner, you know the void in your industry that keeps your customers up at night and you know how to provide the answer to that void or problem. You also know you do not know how to let your customer base know you exist, so you look for the expert that can fulfil your problem. That is why you look for SEO Consulting to help you let your customer base know you are ready and able to help them.
LinenTablecloth.com and Google in Oregon
Some businesses have issues behind the scenes that the end client never sees or even knows exists. However, these issues may not have a good answer and someone working within the industry must find a way to combat that problem. That is how LinenTablecloth.com started. Ron Berrett was working as a caterer in 2005 when he saw there were few options for table linen selections to satisfy his customers. So, he opened a small store and an eCommerce business to service this market. In 2006, he signed his first lease for a small warehouse, after having experienced growth of 228% since deputing in 2005. "Wow. It's amazing what's possible with the internet.  People are surprised that there is this much of a market."
Since growth happened quickly and steadily, Ron was able to build a staff and continue to grow his staff. He began with just him and his wife in 2005 and now employs 61 people. He even has a distribution center in Memphis, Tennessee, and Vancouver, British Columbia, separate from his home base in Portland, Oregon. Because he is spread out into international territory, Google Apps has made it easy to communicate seamlessly between locations. "There's no difference between working with people in Memphis and working with people down the hall. The convenience of working on spreadsheets shared across multiple business locations, cannot be understated. Extremely convenient and much more productive!" Some of the Google products LineneTablecloth.com utilize to help run a seamless business are:
Google Hangouts
Google Apps
Gmail
Google Calendar
…And More.
Dave Nunez, LinenTablecloth.com's Internet Operations Strategist reviews the larger impact of utilizing Google Apps and communicating remotely. "Adding jobs makes a significant impact on these local communities, especially in these economic times." The steady growth of LinenTablecloth.com is now allowing expansion into the home linen market, thereby expanding their customer base. Their internet data analysis helped show the importance of this expansion by showing that many of their customers were looking more for home linens than event linens. "Google data helps us to know what markets to move into. I don't think we'd exist without the internet."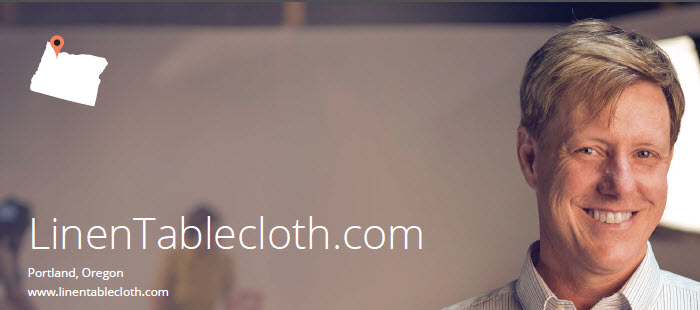 LinenTAblecloth.com has adapted to the ever changing market through updates to their website as well as marketing strategies to attract and expand their customer base beyond what they saw as a simple basic need in an already thriving industry. By utilizing the tools Google makes easily available, they are able to maintain an international business without ever leaving Portland Oregon, unless, of course, Mr. Berett chooses to travel. In today's ever changing economy, this is an essential tool to have at your fingertips.
Google By The Numbers In The State Of Oregon
Oregon is a beautiful state that represents much of both the West Coast and the Midwest in perfect harmony. Many people who move to Oregon for college or love, never leave. Therefore, these individuals are finding innovative ways to help the new, local community with which they fell in love and connect it to the hometown community. Google can help businesses achieve this difficult balance with ease and simplicity.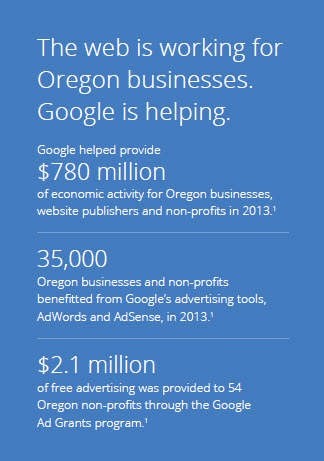 LinenTablecloth.com is one of many business and non-profit organizations in Oregon who benefits from Google's suite of tools and products. For example:
In 2013, Google helped Oregon businesses, website publishers, and non-profits see $780 million of economic activity.
That calculates to 35,000 Oregon businesses and non-profits benefiting from Google's tools, such as AdWords and AdSense.
Google Ad Grants Program raised $2.1 million of free advertising to 54 Oregon non-profits.
This article was written by the LeAds copywriting team. LeAds is one of the most experienced Google SEO Consulting  Companies, specializing in Google AdWords and Google SEO, in the United States. Please visit our website at www.msalesleads.com for more information about making Google Search and AdWords work for your business.
The data in this article was based on the Google USA Report 2013.
You can read our previous article in the following link:
https://www.msalesleads.com/local-seo-company-for-small-business/