The Lead Company to Take Your Kansas Business to a New Level
The Lead Company for Kansas Companies and Non-Profits is Google
"There's no place like home" or at least no place like Kansas. While it seems to be a state that only has farms like those we saw in "The Wizard of Oz," it is actually the home of many different companies and businesses. Whether small or large, every business needs to consider their Internet presence, as it could make the difference in the number of clients or customers, as well as your profitability. Taking the opportunities that are offered by the lead company of your choice and Google's advertising tools can put you on a new level to compete with other businesses of your kind.
Unless you are very Internet savvy, you may not realize that Google offers several tools to help you to move your site up in the search engine rankings. Most visitors do not look beyond the first few pages of results, and if you are not near the top, you could miss out on their traffic. Google AdWords is a way to move your site up in the rankings, as you can use it to find the keywords that are most searched.
From Local Butcher to Countrywide Meat Supplier With a Lead Company
Kansas City Steak Company Uses The Internet to Their Advantage
Began as a local butcher in 1932, The Kansas City Steak Company first started out by selling meat to local restaurants in the area. Today, however, they are a part of National Beef, which is a larger company, but they still live according to their small company values. While they opened years ago when the Internet was not even on the horizon, this hasn't kept them from moving forward and being at the forefront of marketing strategy.
They sell to much more than local restaurants today. They sell to QVC, professional sports teams, and to consumers all over the country. "We are a purveyor of high-quality, high-end, custom meats that are shipped flash-frozen at the peak of their aging and taste. Once the 1990s rolled around and the Internet came into being, we got online," says President John McKinven. The Kansas City Steak Company has used Google AdWords for a very long time. Says John, "We've ramped up the use of AdWords progressively over time. AdWords is really critical for driving website traffic and creating customers. We're working very hard to show up at the right place, at the right time, with the right message."
They also use Google Analytics, daily to track how effective their digital advertising is. They quickly found out that the keywords that they thought were central to their site were not exactly what was being searched for. They continually tested and challenged their site and keywords to meet the searches that customers were looking for and move up in the search engine rankings.
Kansas City Steak Company wants to be much more than relevant to just Kansas. "We have plans to go overseas to Europe and elsewhere. And we're probably heading into different channels that complement what we're doing right now – perhaps into the retail world. We'll become a true multi-channel marketer as time goes on." They are sold on the impact that the online business can have on their company as a whole. They spend approximately 1/3 of their budget for advertising online. "The linkage between traditional direct marketing and online marketing is so profound that it's a natural marriage," John says.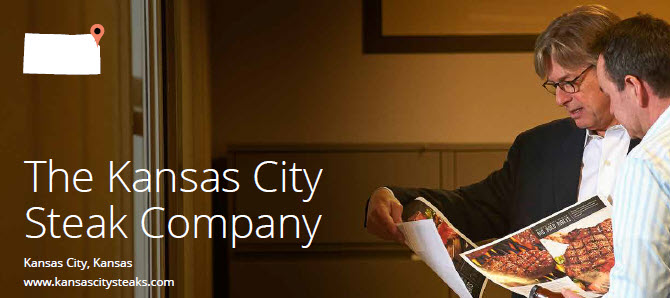 Getting Your Piece of the Google Search Pie
While you may think that you can do without a website or with online advertising of any sort, you could never be more wrong. The majority of people are connected to the Internet 24/7. If you are not a visible presence when prospective clients and customers do searches, then you may lose out on potential business. The opportunity for success is there, but if you do not take advantage, you will miss out on business to your competitors.
The lead company that you choose can make all the difference to you and your company. Whether you offer a product, a service, or you are a non-profit, you want a piece of the $803 million dollars' worth of online business in Kansas alone. A lead generation company that specializes in Google's advertising tools can position your website in the ideal place to get the notice you are looking for.
Even Non-Profits Can Benefit From Lead Generation
Many non-profits are facing a downturn in their donations. This could be due to many reasons, but you have to change with the times to sustain or increase your donation levels. While it may seem as if your non-profit cannot afford to advertise, you actually can't afford NOT to advertise. Google's advertising tools can give you the added edge that will catch the eye of potential donors and help you to meet the financial goals that you have set.
Google is a great place for non-profits. Through the Google Ad Grant program, they have offered 44 Kansas non-profits free advertising (https://www.google.com) to the tune of $625,000. If your non-profit has never tried Google AdWords, then this could be a way to try it out to see how it works for your particular charity.
Whether a company or a non-profit, having an online presence can make all the difference. The potential is out there, and it is digital these days. If you are not taking advantage of the potentiality of the Internet, your company is definitely missing out on prospective clients and customers. Using one of the lead company options out there, such as LeAds, can make a huge impact that will be well worth any financial outlay.
This article was written by the lead company, LeAds, and their copywriting team. LeAds is The Lead Company  who specializes in Google AdWords https://www.google.com/adwords/ and Google SEO, in the United States. Please visit our website at www.msalesleads.com for more information about making Google Search and AdWords work for your business or non-profit.
"The data in this article was based on the Google USA Report 2014."
You can read our previous article in the following link:
https://www.msalesleads.com/leads-company-helps-iowa-businesses/