Website users conversion (engagement) is an important variable for Google search algorithm, therefore it must be considered during the website design and development phase. Here are few ideas to get the user conversion when they visit your business website:
Newsletter subscription
Comment on content
Social networks follows
Webinar registration
Share content with others
Send content to others by email
Like content
Download documents
Request information
Request proposals
Make a phone call
Yes or No questions
Contact us form
Every website page should have some type of user conversion. Your website users and Google will appreciate this.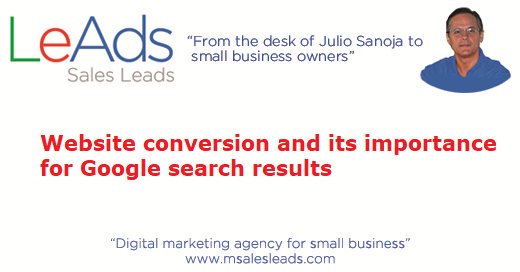 You can read our previous article in the following link:
https://www.msalesleads.com/how-can-miami-business-owners-go-digital/
About the Author:
This article was written by Julio R. Sanoja, owner and founder at MSalesLeads, a digital marketing agency for small and mid-size businesses in Miami, Florida. We help small and mid-size businesses to go and grow their businesses online; position their brands, products and services online; get qualified leads and new customers online. We have been doing this for the last 16 years. You can write me juliosanoja@msalesleads.com or you can call me 305-918-9793. Visit our website www.msalesleads.com