If your small business isn't yet optimized for local search, you're missing out.
Local search can be a huge source of leads and revenue – but only if you know how to tap into it. Luckily, that's exactly what local digital marketing services do for your business.
How Local Digital Marketing Services Position Your Small Business for Success
If you want to get found online when local prospects look up businesses like yours, here's how it works.
1. Your Online Content Will Follow Best SEO Practices
Nobody will be able to find your business online if you're not following techniques for search engine optimization (SEO). A digital marketer will make sure you hit every mark, like a good meta description for your home page, keyword placement, and more.
2. Your Business Will Get Listed
A digital marketer will ensure that your business is listed online in every place that matters. For instance, you can get listings on Yelp and Citysearch in addition to a Google business listing. The latter is a must, especially for hooking people who are out and about in your city, Googling your type of services.
3. Your Ads Will Work Hard
Local digital marketing services can create online ads that are targeted for your specific service area, ones that will do a lot to get you noticed.
If you're ready to improve your visibility in local search and pull in more local traffic, we can help you at MSalesLeads.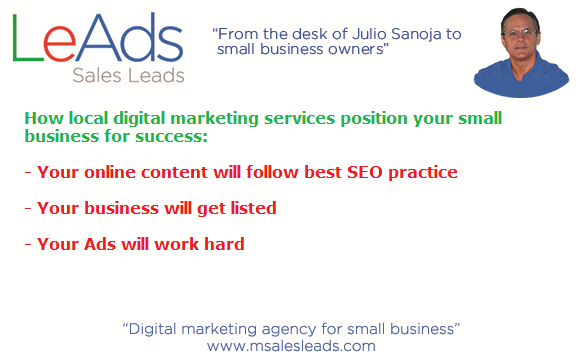 You can read our previous article in the following link:
https://www.msalesleads.com/does-your-website-comply-with-google-tests-and-why-it-is-important-for-local-search/
About the Author:
This article was written by Express Writers team