AdWords Professional in Nebraska should only Specialize in Adwords PPC Campaigns
AdWords professional in Nebraska should only do Adwords PPC Campaigns
AdWords professional is not "jack-of-all-trades" type of guy. No, these specialists are experts in only one area, and that area is Google AdWords and PPC campaigns.
Your AdWords professional is not a writer. He or she is not an SEO expert. Your PPC campaign manager shouldn't understand the in's and out's of social media or how to use Twitter's marketing tools to grow your business.
He or she should only know (and better than anyone else) how to increase your profits through a perfectly executed Google AdWords campaign. If you want the best chance at boosting your profits as high as possible – then you want an AdWords professional managing your AdWords accounts.
You have seen the ads. We all have. There are many "full service" Internet marketing companies that offer a number of services under one roof. You can work with one company for your web design, SEO research, content writing, PPC, and much more. These companies claim to be able to do everything, and in some respects they can.
These types of companies can handle every aspect of your online presence. These companies won't handle any aspect of your business's online presence very well. A "jack-of-all-trades" Internet marketing company "can" handle all these things, but they are not experts in any field.
These companies certainly are not AdWords experts. There are no AdWords professionals working for a one-stop shop type of Internet marketing company. No, a true professional AdWords consultant works for an AdWords agency or manages his or her small firm. He or she has managed an AdWords campaign on his or her dime and maximized profits.
Think about it this way: you wouldn't go to a general practitioner to get knee surgery. You would go to an orthopedic specialist that is considered an expert in repairing knees. In the same manner, you wouldn't go to an Internet marketing company to manage your Google AdWords campaign. You'd go to an AdWords expert.
Cupcakes, Confection, and Cash
Some businesses sell products that AdWords simply don't make sense for. There's no reason to start a Google AdWords campaign for nearly all bakeries. Why spend $2-3 USD on a click when one cupcake costs about the same?
Many bakeries have found other ways to utilize Google's marketing channels to increase sales. One such bakery is Le Cupcake in Lincoln, Nebraska. Owned by Maria Applegarth, the boutique bakery serves up cupcakes with a smile – one tasty treat at a time.
Purchasing the business in 2014, Applegarth believes, "Le Cupcake is more than just cupcakes. It's making people happy with customer service and a great product." People savor the flavor, but keep coming back due to the exceptional service.
Repeat customers are vital for Le Cupcake. With the cupcake craze taking the United States by storm for the last 2-3 years, Le Cupcake faces strong competition every day. Maria understands that her customers have choices when satisfying their sweet tooth.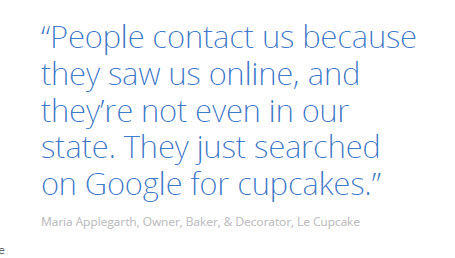 So she set out to develop an Internet marketing strategy that was sure to grow her business. The first step for Applegarth was building her business's Google My Business page. She wanted to perfect how Le Cupcake showed up in Google Search and Google Maps. To do so, Maria made sure her listing showed exterior and interior photos of the company – along with many Google (www.google.com) reviews, easy directions to the shop, and a direct link to her website.
Applegarth began to focus on Le Cupcake's website next. While individual cupcake sales fuel the day-to-day operations for Maria, she knows that the company can boost profits the fastest through wedding catering. So she specialized a section on her website for brides to look through. According to Applegarth, "Brides like to see pictures. They want to see what our products look like and get ideas for what we could do for them. Being online is very, very important."
Monthly favor specials announced online to keep her regular customers happy, as she incorporated a monthly Flavor Calendar to showcase each month's new creations. Maria also incorporates Google Docs and Gmail to ensure her employees stay on top of everything when she is away from the bakery.
The online efforts of Le Cupcake have been paying off. Maria says, "People contact us because they saw us online, and they're not even in our state. They just searched on Google for cupcakes." As well, Le Cupcake has been voted as a member of the Best of Lincoln by those in the local media and featured on "Cupcake Wars," a show specializing in all things cupcake on the Food Network.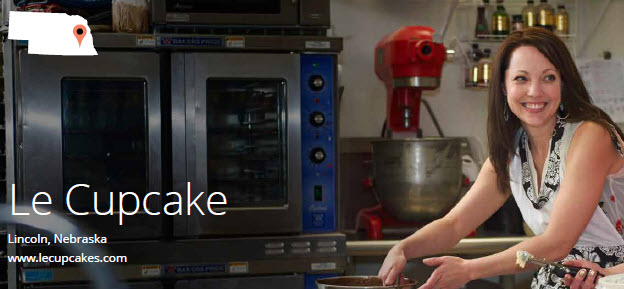 Maria believes any business can use Google and the Internet to grow, just like Le Cupcake did. She believes every business should, "get a website as the first thing you do. It's not only how people find us, but how they stay connected with us." Once you have your online presence built, a business must foster loyalty within every employee. For Maria this means, "Every one of my employees loves the business as much as I do. When I walk in the morning, there are cupcakes everywhere. There's a lot going on, and everybody's happy. We're giving people cupcakes, and it makes their day."
Google By The Numbers In The State Of Nebraska https://www.thinkwithgoogle.com/
Cupcakes are certainly not the only businesses in Nebraska using Google to fuel sales. Google provided $1.61 billion in economic activity in 2014 to Nebraska businesses.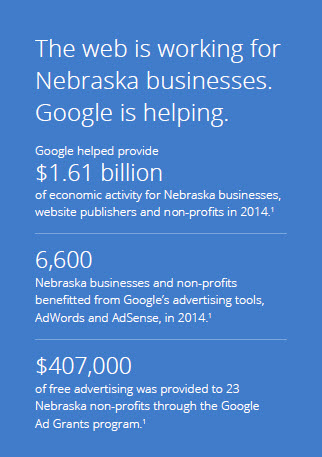 In 2014, there were more than 6,600 Nebraska companies that used Google's advertising tools. Google also gave $407,000 in free advertising to 23 non-profits in Nebraska.
This article was written by the LeAds copywriter team. LeAds is one of the most experienced Google Adwords Professional Company, specializing in Google AdWords https://www.google.com/adwords/ and Google SEO, in the United States. Please visit our website at www.msalesleads.com for more information about making Google Search and AdWords work for your business.
The data and the images in this article were taken from the Google USA Report 2014.
You can read our previous article in the following link:
https://www.msalesleads.com/adwords-agency-and-google-in-montana/