There are several new online healing businesses in United States.
Leaders are Begin to Heal, Mind Valley, DailyOm, Zencare, Zocdoc.
Users can take courses and watch videos about healing knowledge, or request an appointment with a therapist or doctor.
It is all about healing and feeling well. It is all about health in its more profound level.
These businesses have strong online presence and also physical presence in the therapists and doctors' offices.
These online small healing businesses need qualified website traffic in order to grow their businesses.
Here are a few digital marketing ideas for these small businesses to increase qualified traffic to their website:
Google Ads search campaign
Google Ads display campaign
LinkedIn Ads display campaign
Facebook Ads display campaign
Instagram Ads display campaign
Article marketing campaign with email marketing campaign.
These above ads and content (articles) campaigns will position these small healing businesses at the first page of Google search results, Internet websites and apps, social networks, email marketing, other digital media.
We recommend to do A/B testing during 3 months to the ads campaigns to keep the most effective, efficient, and satisfactory campaigns and pause the least effective, efficient, and satisfactory campaigns.
Article marketing must be permanent.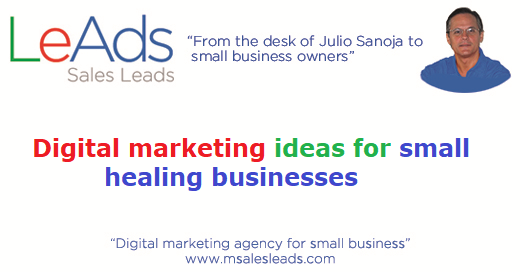 You can read our previous article in the following link:
https://www.msalesleads.com/digital-marketing-will-prevail-social-networks-will-not-prevail/
This article, and all our previous articles, are originally published at our Blog at https://www.msalesleads.com/category/articles/ , and then they are distributed in all our social network pages, and email marketing.
About the Author:
This article was written by Julio R. Sanoja, owner and founder at MSalesLeads, a digital marketing agency for small and mid-size businesses in Miami, Florida. We help small and mid-size businesses to go and grow their businesses online; position their brands, products and services online; and get qualified leads and new customers online. We have been doing this for the last 16 years. You can write me juliosanoja@msalesleads.com or you can call me 305-918-9793.