PPC Agencies in Maryland Use Google To Help Businesses Grow.
PPC Agencies in Maryland use Google to help businesses build themselves from a small online presence to a popular brick and mortar location.
PPC Agencies are businesses that study the trends of the internet to help you better advertise to your customer base. The goal of working with these firms is to be where your clients need you to be when they are searching for you, and to do so at a very cost effective rate. This goal is accomplished by the hours of research these firms put into the shopping and search trends of your target demographic. Additionally, the research conducted by these firms may actually help you expand and even define your demographic beyond your previous thoughts and expectations. As a result, your business will grow at rates that will astound you and keep you busier than ever before.
Utilizing PPC agencies will not only allow you to grow your business faster, but it will demonstrate to your customers that you have a standard of care for your business and customers that surpasses that of the competition. You care enough to understand what makes your customers tic and why they shop the way they do. This also shows that you care enough to understand the trends affecting not just your business, but your customers' habits and daily lives, while also demonstrating that you are willing to go above and beyond to meet and exceed their expectations. PPC agencies offer several benefits to you that are seen by the outside world, such as:
Keeping you ahead of the trends
Being relevant to your customer base
Anticipating your customers' needs
Meeting your customers halfway in their searching efforts
…And More.
Should you make the choice to work with PPC agencies you must be willing to take advice that may put you out of your comfort zone. The purpose of hiring these firms is because you do not know what you do not know, and yet they do. These firms are experts in growing businesses through online marketing. While they may not be an expert in your business, they are able to learn enough to help you develop a plan that will enhance your overall business and leave you the talk of the town.
By utilizing the resources provided by working with PPC agencies, your biggest problem will no longer be how to pay the rent for next month. Instead you will be wondering how quickly you can open a second location.
Grilled Cheese & Co. and Google in Maryland
Sometimes, building a business simply takes a good idea, experience, and some comfort food. That was the case with Grilled Cheese & Co. Vic Corbi had a dream one night in August, 2005 in which he was in a trailer selling grilled cheese sandwiches. After confiding in his friend Matt Lancelotta about the dream, they began developing the idea that would become Grilled Cheese & Co. They began their venture selling sandwiches under a tent at beer and wine festivals while simultaneously building word of mouth buzz with a website and social media. Five years later, in 2010, business became so popular they established their first brick and mortar location where they began selling their sandwiches that are marketed as "better than Mom's."

Vic and Matt took advantage of the free resources of social media. "We were on every social media channel you can think of," which included Google+ and YouTube. Their YouTube channel is filled with mouth-watering concoctions such as the Philly, Smashed Meatball, Crabby Melt, and Veggie Delight. They use Google Analytics to see what is working and how. "We can see where our fans are based and what web pages they're looking at," says Vic. "It helped us simplify our website so we could put the most important information front and center." They even offer online ordering and a "secret menu" for those customers that are "in-the-know." Vic and Matt take advantage of many of Google's online tools to grow their business, including:
 …And More.
What began as a small traveling food business has become a multi-million dollar enterprise. Vic and Matt have begun to sell franchises and have plans to open ten more stores. Currently they are employing 100 people, and growing daily. "We believe in giving back. We do a lot of fundraisers, donating our food and services. There's no better form of advertising than giving back to your community.  It comes back to you tenfold." Vic and Matt know that without Google and social media, they would not be nearly as successful in such a short amount of time. "Social media is a powerful way for friends to tell their friends about us."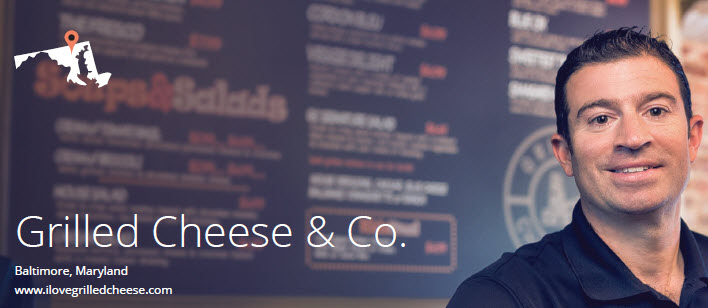 Google By The Numbers In The State Of Maryland https://www.google.com/economicimpact/
Maryland offers numerous different opportunities and landscapes. Whether you are interested in the Navy, enjoy oceanography, or just want to get back to nature, Maryland has a little something for everyone. That is why businesses continue to flock to Maryland to build a customer base and grow their brand. Google has helped many of these businesses develop their brand in Maryland and appeal to the many different walks of life passing through daily.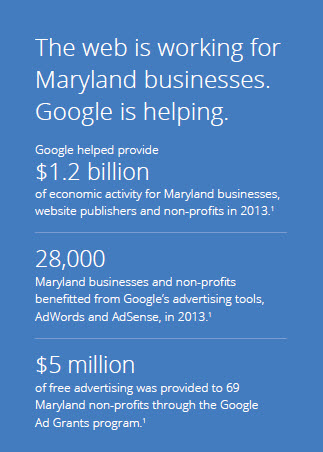 Grilled Cheese & Co. is one of many businesses in Maryland that benefits from Google's suite of tools and products. For example:
In 2013, Google helped Maryland businesses, website publishers, and non-profits see $1.2 billion of economic activity.
That calculates to 28,000 Maryland businesses and non-profits benefiting from Google's tools, such as Adwords and AdSense.
Google Ad Grants Program raised $5 million of free advertising for 69 Maryland non-profits.
This article was written by the LeAds copywriter team. LeAds is one of the most experienced Google PPC Agencies specializing in Google AdWords and Google SEO in the United States. Please visit our website at www.msalesleads.com for more information about making Google Search and AdWords work for your business.
The data in this article was based on the Google USA Report 2013.
You can read our previous article in the following link:
https://www.msalesleads.com/ppc-management-companies-and-google-in-maine/