AdWords Consultant Cost what they are Worth in Traffic and Conversions
AdWords Consultant – you see the results you were hoping for
AdWords Consultant is a dime a dozen. Yet, a good one is worth more than you could ever imagine. If you choose a cheap AdWords management company, then you'll end up with horrid service and results. This means you'll overpay to Google for traffic that isn't any good for your business.
Most businesses find they are better off paying more for a good Google AdWords Consultant, then skimping on paying for an expert. By paying for a good consultant, you'll create a much more efficient AdWords account over the long haul.
When beginning to look for AdWords help, you'll need to take a few steps:
Educate yourself. Do some research and gain an understanding of the platform. Read a book about PPC and make sure you understand what a consultant will be talking about.
Research AdWords Consultants in your area. Find out some of the best individual contractors and agencies.
Contact 3-4 of the best consultants in your area.
Set up free consultations.
After the free consultations, you should compare and contrast the consultants before you choose whom to work with.
The best way to choose an AdWords Consultant is not by price, but by which consultant actually cares about your business and not just about getting your business. Large agencies may have minimum spends while individual contractors may be willing to work with clients on smaller budgets.
If your AdWords budget is on the low end, you could attempt to learn how to manage your AdWords account on your own. This would require further education than reading one book and a few articles online.
Google (www.google.com)  is more than just AdWords
Many companies have found great success paying for traffic from Google. Some of these companies use an AdWords Consultant, and others do not. Some companies find they don't need paid traffic from Google to grow their business. This does not mean they do not utilize other tools that Google offers.
One such company is Lazy Magnolia Brewing Company in Kiln, Mississippi. Owned by Mark and Leslie Henderson, the brewery uses a simple business philosophy to foster growth and keep loyal customers happy. According to Mark, all a business has to do is, "Do something that somebody wants, then make it easy for them to give you money for it. The Internet allows us to do that."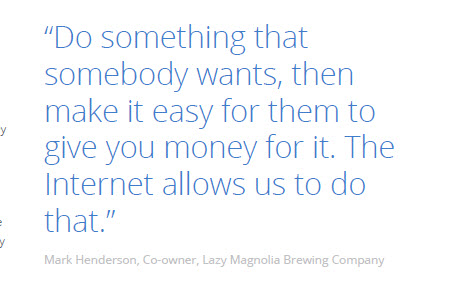 Lazy Magnolia's simple business strategy was born from humble beginnings. One Christmas, Leslie bought Mark a home brewing kit. Brewing delicious beers quickly grew into more than just a hobby for the homegrown Mississippians. In January 2005, the couple created Lazy Magnolia Brewing Company and quickly sold their first craft beer.
By selling beer in Mississippi, the brewery became the first brewery in Mississippi after the state-enforced prohibition in 1907. Yet, the fast start would come to a rapid halt for the brewery. Hurricane Katrina destroyed Lazy Magnolia's business in the blink of an eye. By August 2005, the brewery was no longer in business.
The couple did not give up or give in. Using a strong sense of determination and a lot of grit – Lazy Magnolia came back to life. Mark and Leslie rebuilt the company from the ground up and in doing so; they began to utilize the Internet more than ever to find customers.
Without the Internet, Lazy Magnolia Brewery would likely not be around today. According to Mark, "We had a digital presence before we had a physical presence. How else would Leslie and I be able to connect with our patrons and make them feel like they really are patronizing us?"
As the brewery's business grew, the couple's reliance on the Internet did too. Today, Mark and Leslie use a suite of Google Apps to ensure Lazy Magnolia operates efficiently. Apps like Google Docs, Google Sheets, and Google Maps allow the company to communicate efficiently with employees, distributors, and customers.
Mark loves being able to share documents with his employees, as he claims, "Google Docs makes my life ten times easier. Moreover, Google Sheets has always been a big part of what we do. Being able to share a spreadsheet with everybody becomes critical."
As the brewery business is often based upon finding little whole in the wall bars looking to stock your brew, Mark is on the road all the time. When traveling, Lazy Magnolia's co-owner uses Google Maps to ensure he stays on course. As he says, "it's an awesome tool, and in our business, it's absolutely critical. We're always trying to find a little bar or restaurant out in the middle of nowhere."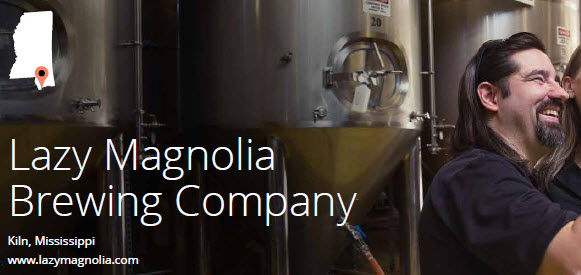 With great brews, a sound business strategy, some hard work, and the use of Google Apps – Lazy Magnolia Brewery is growing more than they would have ever imagined. The company sold over six million bottles of beer in 2014 alone.
Mark and Leslie do not have any plans of slowing down either. Not only is the company growing, but the growth has given the couple a chance to branch out into the community. Mark states, "We're doing good things in our community. We're making changes and this place is getting better." 
Google By The Numbers In The State Of Mississippi https://www.thinkwithgoogle.com/
Lazy Magnolia Brewing Company certainly isn't the only business using Google's suite of Internet tools to grow. Google helped to provide over $63.8 million of economic activity for businesses, website publishers, and non-profits in 2014 in Mississippi.
Free advertising to the tune of $232,000 was provided to 13 different Mississippi non-profits through Google's Ad Grants Program. As well, 4,500 Mississippi businesses took advantage of Google's advertising tools, like Google AdWords and Google AdSense.
This article was written by the LeAds copywriter team. LeAds is one of the most experienced Google Adwords Consultant, specializing in Google AdWords https://www.google.com/adwords/ and Google SEO, in the United States. Please visit our website at www.msalesleads.com for more information about making Google Search and AdWords work for your business.
The data and the images in this article were taken from the Google USA Report 2014.
You can read our previous article in the following link:
https://www.msalesleads.com/adwords-management-company-in-minnesota/