Small businesses can get earned media by writing, publishing, and distributing articles about their products and services, and how they satisfy their customer needs. This is article marketing.
Small businesses can get earned media by doing article marketing.
Small businesses can have three type of digital media: owned media, paid media, and earned media.
Owned media is the digital media that can be administered and managed by the small business. Examples of owned media are the small business website, blog, social networks pages, social network group pages, social network communities' pages, social networks blogs, email marketing platform, directories listings.
Paid media is the digital media that can be obtained by small businesses by paying advertisers or media owners. Examples of paid media are Google Ads campaigns, Facebook Ads campaigns, Instagram Ads campaigns, LinkedIn Ads campaigns, Amazon Ads campaigns; major media sponsored content campaigns, press releases, PR campaigns.
Earned media is the digital media that small businesses can get for free. Earned media is a free promotional media that small businesses get thanks to their own promotional efforts, mainly by article marketing and customer satisfaction. Examples of earned media are likes, comments, and shares at social networks; virality at social networks; reviews at Google My Business, reviews at other online business directories; interviews at major media; interviews at niche media; listings at niche media; recognitions at niche media; featuring at niche media; links to owned media articles; featuring at niche marketplaces; listings at niche marketplaces.
Our agency, MSalesLeads, has obtained several earned media during two and a half years of operations:
Article marketing and customer satisfaction are two important business activities in today's digital economy; and both activities can get you earned media as an additional benefit for your business and for your customers.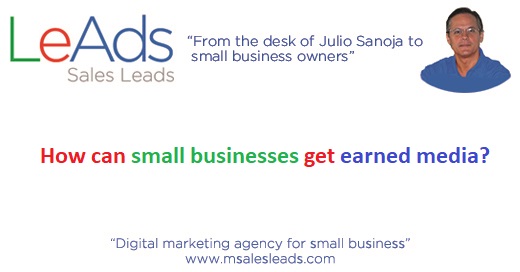 You can read our previous article in the following link:
https://www.msalesleads.com/key-advice-to-small-businesses-owners-and-marketing-managers/
This article, and all our previous articles, are originally published at our Blog at https://www.msalesleads.com/category/articles/ , and then they are distributed in all our social network pages, and email marketing.
About the Author:
This article was written by Julio R. Sanoja, owner and founder at MSalesLeads, a digital marketing agency for small and mid-size businesses in Miami, Florida. We help small and mid-size businesses to go and grow their businesses online; position their brands, products and services online; and get qualified leads and new customers online. We have been doing this for the last 16 years. You can write me juliosanoja@msalesleads.com or you can call me 305-918-9793.