There are two ways to get new customers in Internet:
Doing a content marketing campaign.
Doing an advertising campaign
Content marketing campaign:
Content marketing takes time and results are obtained in the long term, but it is necessary if you want to position your business at the first page of Google, at the social networks, and at email marketing.
Content marketing consist of the production, publication, and distribution of content about your products, services, and customer needs, in text, image, and video formats.
Advertising campaign:
Advertising campaign gives inmediate results, and only takes budget to execute. Businesses in Miami can do advertising campaigns at Google search, Google display, Facebook display, Instagram display, LinkedIn sponsored content ads. Google search and LinkedIn sponsored content ads are recommended for B2B businesses; and Google display, Facebook display, and Instagram display are recommended for B2C businesses.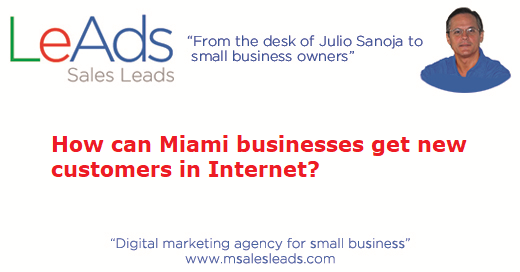 You can read our previous article in the following link:
https://www.msalesleads.com/how-can-small-and-mid-size-businesses-reach-their-customers-in-internet/
About the Author:
This article was written by Julio R. Sanoja, owner and founder at MSalesLeads, a digital marketing agency for small and mid-size businesses. We help small and mid-size businesses to go and grow their businesses online; position their brands, products and services online; get qualified leads and new customers online. Julio has been a digital marketing consultant for the last 16 years.