Search Engine Optimization Companies in South Carolina Use Google to Help Businesses without a StoreFront Find Their Audience.
Search Engine Optimization Companies in South Carolina Use Google to Help Businesses without a Storefront or Brick and Mortar Location Find the Audience Looking for Them.
Search Engine Optimization Companies are the often forgotten, but highly necessary piece to the internet puzzle. You have a web designer and developer who creates your website and makes it ready for search engine optimization, but how to you keep up with the search engine optimization. That is where the search engine optimization companies come into play. These companies are in business solely to track and analyze the search engine algorithm used to index websites. Then, these companies put those algorithms into practice in your website and update it as needed to make sure you are always found by the people who are looking for you.
If you have a brick and mortar location, this is necessary, but not the sole existence of your business in the public eye. However, if you are like many companies, and do not have a storefront for customers to visit, your website is their first and sometimes only visual introduction to your existence. Therefore it is essential that you keep it up to date with the latest SEO key points. Search Engine Optimization Companies help you:
Stay in front of your clients
Find new customers online
Stay relevant to your customer base
Stay on top of the trends in your industry
…And More.
To understand the importance of using Search Engine Optimization Companies, it is important to understand how search engines work and how you get moved to the head of the class, so to speak. Billions of websites pop up daily in a search engine feed, some new, some old, and some closed but not deleted. It is the job of the search engine to then index these websites based on relevance and whether they seem legitimate or not. Therefore, search engines utilize algorithms for this task. These algorithms used to simply look at tags web designers could place into the proper location in the website as they built the site. However, web designers got very wise to this concept and they would "pad the keyword metatags" to increase visibility, decreasing the integrity of the results. Search engines depend on integrity, so they stopped using this method in their algorithm and now change their algorithm daily, at least. Imagine being in the potion to keep up with the daily changes, especially if the original method makes little or no sense to you.
Now imagine, you hire search engine optimization companies to help you manage this process. These companies understand the process, know how to track it, and more importantly, know how to implement it for your business in your market. IT is a winning situation for all involved.
Carolimas Catering and Google in South Carolina
A business can be born out of a passion. Sameka Jenkins had a passion for cooking, and in 2011, she left her corporate job and opened Carolima's Catering, where she specializes in creating unique menus doe weddings, special events, and corporate functions. Sameka knew, however, that without a storefront, she would need the internet to help spread the word that she was open for business.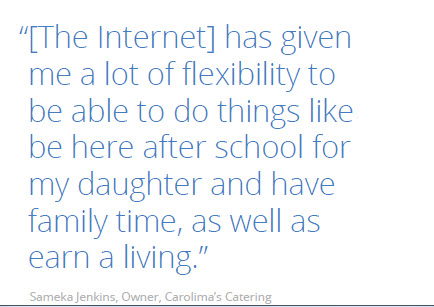 Google's Get Your Business Online (GYBO) program helped her build an amazing website to help her showcase her new enterprise. Once she had a web presence, her business immediately jumped 100%. Even today, she still receives quite a bit of business from her website. "Probably twenty-five to thirty percent of my business comes from people who have been directed to the website and as a result of it, call me back." Sameka knows without the internet and her website she would be out of business. "You have to have an online presence Otherwise you just won't have the exposure you need." Samkea uses numerous Google products to get the word out and stay in touch with her clients and customer base.  Some of the products she finds most helpful include:
Google AdWords
Google+
Gmail
Google Docs
…And More.
Aside from satisfied customers, she knows many people find her online and will continue to do so. As a result of the internet, she has been able to not only live her dream, but spend more time with her family than if she has stayed in corporate America. "It has given me a lot of flexibility to be able to do things like be here after school for my daughter and have family time, as well as earn a living. I am very grateful to have the flexibility that I have now."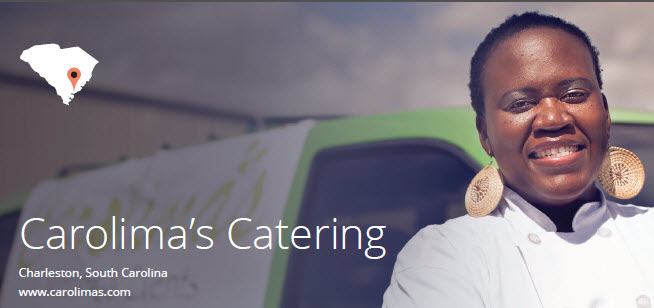 Sameka knows and understands the internet is the most comprehensive and cost effective way to advertise a word of mouth business. The ability to connect with customers at a moment's notice and interact with those interested in your services is priceless, and those are the benefits of the internet and its components.
Google By The Numbers In The State Of South Carolina
South Carolina is synonymous with Southern Hospitality and great southern cooking. Many businesses grow from this nurturing environment and work diligently to bring their version of southern hospitality to people all over the US and the globe. Google can help many of these businesses achieve this feat with little cost and a lot of exposure.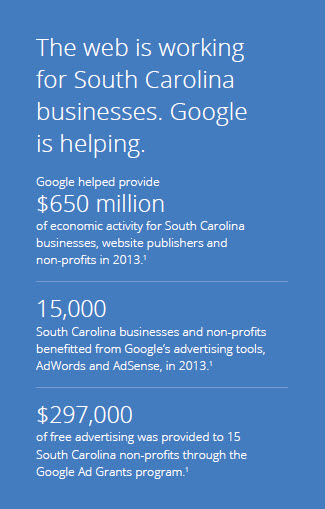 Carolima's Catering is one of many business and non-profit organizations in South Carolina who benefits from Google's suite of tools and products. For example:
In 2013, Google helped South Carolina businesses, website publishers, and non-profits see $650 million of economic activity.
That calculates to 15,000 South Carolina businesses and non-profits benefiting from Google's tools, such as AdWords and AdSense.
Google Ad Grants Program raised $297,000 of free advertising to 15 South Carolina non-profits.
This article was written by the LeAds copywriting team. LeAds is one of the most experienced Google agencies, specializing in Google AdWords and Google SEO, in the United States. Please visit our website at www.msalesleads.com for more information about making Google Search and AdWords work for your business.
The data in this article was based on the Google USA Report 2013.
You can read our previous article in the following link:
https://www.msalesleads.com/seo-managers-are-helping-rhode-island-small-business/